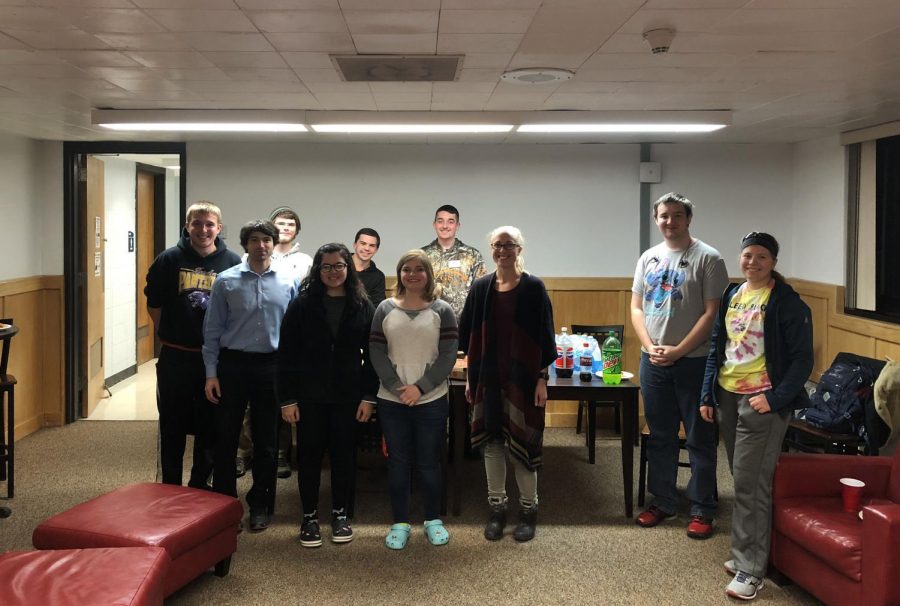 Matthew Anderson photo
Students gathered at Pickard Hall for free food and the chance to interact with their professors outside of the classroom.
The goal of Pizza with Professors is to create a social environment where incoming faculty and students alike can gather for pizza.  The professors that attended the event were Dr. Kameko Halfmann, assistant professor of psychology, and Dr. Douglas Selent, assistant professor of computer science and software engineering.  Dr. Halfmann and Dr. Selent are new to Platteville.  Dr. Halfmann was hired in Fall 2017, and Dr. Selent was hired at the beginning of this semester.
"I enjoy getting to know students outside of the classroom and getting to see different types of students than the ones I see in psychology class," Halfmann said.
The students lined up waiting for Pickard Hall Resident Assistants Tony Barnier and Quincy Williams to dish out Pizza Hut pizza.
"Students and professors get to know each other on a personal level," Barnier said.
Barnier and Williams led the discussion during the event.  The discussion topics included Wisconsin weather, video games and tips for first-year students.  Professors discussed their career paths and what ultimately brought them to Platteville.
"It was a very fun experience getting to know them outside of being professors," freshman agriculture education major Kelsey Potratz said.
Halfmann received her Bachelor of Arts degree from St. Olaf College in 2010 and then received her Ph. D. from the University of Iowa in 2015.  Halfmann enjoys running, yoga, spending time with her dogs and partner and advocating for women in science.  Halfmann teaches a variety of Psychology classes each semester ranging from General Psychology to an Independent Study course.
Selent earned his Bachelor of Science in Computer Science at Merrimack College and then received his Ph.D. in Computer Science from Worcester Polytechnic Institute.  Selent enjoys coding and playing video games in his free time. Selent has taught graduate and undergraduate Computer Science courses.
Pickard Hall hosts Pizza with Professor every few months with different professors.