UW-Platteville confronts student enrollment
Efforts have been put in place to help obtain and retain more students.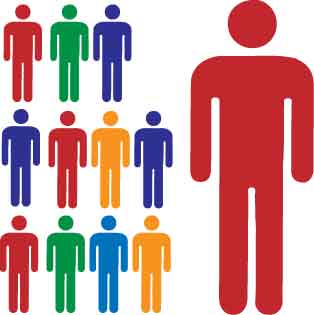 The University of Wisconsin-Platteville has seen a dip in enrollment in recent years. Since its peak in 2014, UW-Platteville has seen a tapering off in consistent enrollment numbers. In 1997, when efforts were shifted to increase enrollment and spread the word about the university, Platteville had roughly 4,500 students, behind the University of Wisconsin-Superior and the University of Wisconsin-Stout. Currently, the university has 7,170 undergraduate students and 809 graduate students.
"Recruitment and retention is everyone's business on this campus; first impressions mean so much," Director of Communications Paul Erickson said. "One of things I see when I sit here and I watch people come up to the campus map to try and find where they are going, almost every time students, faculty or staff – someone comes up and asks if they can help and tries to point them in the right direction. That's the kind of campus we have.  Its not everyone's job, but it is everyone's responsibility [to help]."
A source for the lack of student enrollment can be seen in the dropping of high school graduates across the country especially in areas like southwest Wisconsin. According to the National Center for Education Statistics, roughly 25 percent of high school students nationwide do not make it to graduation. This is now causing UW-Platteville to look towards a more competitive edge when reaching out to prospective students. This aspect of the five-year-plan proposed by the university will continue further efforts to market itself in not just Wisconsin but Iowa and Illinois too. As a part of the Tri-State Initiative, students from Iowa and Illinois will now be reached out to more often. High schools in all three states have matching programs that are similar to majors offered at Platteville and will also be given more notice by the University.
"It [UW-Platteville] wasn't really broadcasted that much because when I first went to school here there was nothing really telling you, 'Hey, check out Platteville,' they kind of focused on the main ones like Madison and Milwaukee and those kinds. I didn't find out about Platteville until I got one of those booklets from my guidance counselor and he was like 'Oh, there's engineering here?' So I decided to go here for engineering and that was the first time I had heard of Platteville," senior industrial technology management major Jack McCann said.
Marketing of the university has increased in the last semester. As many students have noticed in the past six months, the new "P" for Platteville has taken the place of the longstanding "M" used as the symbol of the University, and is one of the first things seen by touring and incoming students. An expansion into Facebook, YouTube, Instagram and other websites is also being developed; and, as of this academic year, the new UW-Platteville website has debuted. These avenues for marketing are meant to spread awareness of not just the university but the majors and opportunities provided.
Once students are admitted in, retention becomes the next step in ensuring students stay to finish their degrees. One of the problems facing student numbers is the lack of awareness of academic resources.
"There are quite a few initiatives that we [UW-P] have been putting forward to just raise awareness of UW-Platteville and what a great school it is and the opportunities that we have, so that's sort of the early step in the process is finding students who may otherwise not be thinking of us and sharing with them why it would be a good idea to come here," Director of Retention and Academic Support Kareen Mcleer said.
Retention at UW-Platteville is currently sitting around 77-78%.  This number has been fluctuating since 2014-2015 as student enrollment has dropped. In the past two years, there has been a small increase in usage by students of the writing center, math skills center and tutoring services. Student success is something that is stressed heavily by retention. All academic support programs have, in recent semesters, created focuses on students from semester to semester instead of looking directly towards a larger theme of pure retention. The focal point for the program now is to find students who are struggling most and then getting them the help they need.