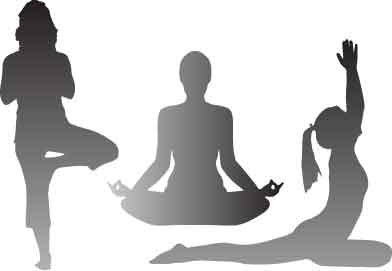 Liz Kaiser
Danielle Carlson from Main Street's new Rooted Studio LLC hosted Fall Equinox Yoga and Meditation to celebrate the change of seasons on September 22. Fall equinox marks the end of summer and the beginning of fall during a time when the lengths of days and nights are equal. The word "equinox" is Latin for "equal night." Because of this, the equinox celebrations often focus upon attaining
both inner and outer balance.
Carlson began by leading students in a table pose followed by cat and cow
poses (yoga poses are often named after what they look like). Next, Carlson led students in doing several sun salutations and ended the yoga class with Yin Yoga, the slower "restorative" type of yoga.
"This is not the first time I've hosted an event like this," Carlson stated. Her favorite part of hosting events like Fall Equinox Yoga and Meditation is having people come together.
"For me it's something different. . . a different theme. It's just the idea that the change of seasons is coming and it's a celebration of it in a different way," said Carlson.
"I came to this event because my spiritual practice includes honoring the change of seasons and yoga is a really great stress relief. I can't always come to Danielle's regular classes, so I enjoy her pop-up classes," said community member Nicole Tyc.
Outside of hosting classes, Carlson has been practicing yoga and meditation for ten years, "because it's very relaxing." She added, "I am a high-school science teacher, so it helps me handle the stress of my job."
Rooted Studio will also have an event called Winter Solstice: Yoga and Meditation on December 21.