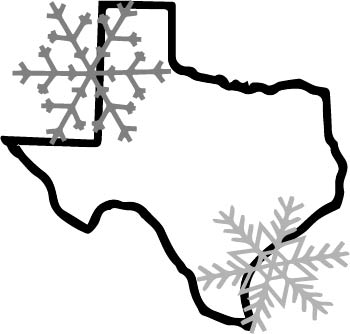 Many farmers and ranchers across the United States have had to deal with a harsh winter with record low temperatures and snowfall. While, most farmers in the Midwest are used to these conditions, the snow was unexpected for Texans and other southern state ranchers.
For example, Jeff Leahy, Wisconsin, and Randy Heine, Illinois, are both used to cold snow-filled winters. Nevertheless, this winter with all its ice was challenging for both of them.
Jeff Leahy, a cattle farmer near Platteville said, "When the snow and cold weather came, it made day-to- day tasks on the farm take much longer." Leahy continued, "We can connect to the Texas ranchers on higher fuel prices since the oil refineries have been shut down, however we are more accustomed to dealing with winter storms better because of our equipment and experience here in Wisconsin."
On the other hand, in Texas, farmers and ranchers were not prepared for the winter storm. Many struggled to keep their animals alive and fed. Most water sources were freezing and, therefore, they had to haul water to the cattle or break up the ice.
Illinois also had a very icy winter. Heine, a cattle and hog farmer from Hampshire, IL also had a hard time with the ice and said, "It was hard to get doors open when they were froze shut; it's also hard to move tractors around on the ice and to get things done."
Texans also had problems with their tractors gelling up. Therefore, they had to find another way to haul hay to feed their cattle. Ranchers have had to pay even more for feed this year because of the markets. Warm shelter and bedding were another issue they faced. Some ranchers even brought livestock inside their homes to keep them warm, especially calves and lambs. Some cows and calves did not survive the cold streak.
These cold temperatures and snowfall also killed many chickens, shut down meat packing plants and threatened many crops. Countless baby chicks died, which will later affect the food supply. Due to the lack of natural gas heating in these hatcheries, many chicks froze to death.
Some of the packing plants that were closed were Cargill, Inc. and Tyson Food. Many farmers have been concerned about the winter wheat and oats planted. A large amount of oat fields have been killed, especially in the warmer southern states.
Another issue that Sid Miller, the Texas Agriculture Commissioner, shared is that, since the power was down, many milk processing plants could not take milk, which forced farmers to dump $8 million worth of milk because they had nowhere to take it.
Feed mills also could not operate and produce feed for the animals. All of these factors are going to cause a ripple effect on the food supply, not just in Texas, but across the entire United States.
There have been many different organizations raising money for Texan farmers and ranchers. The State of Texas Agriculture Relief Fund has been formed by the Texas Department of Agriculture. This relief fund will help rebuild fences, resume operations and paying for other items that may have been damaged in the storm.