Celebrating the giant rock we call Earth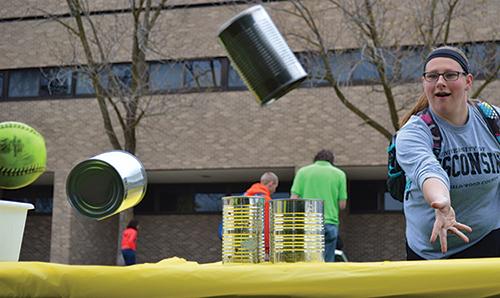 Hang on for a minute...we're trying to find some more stories you might like.
Everything we've ever done in our lives has happened on a giant rock hurtling through space at over 1,000 miles per hour. Every movie we've ever watched, every song we've ever listened to and every breath we've ever taken has happened on this rock. Something else that has happened on this rock of ours over the last three years is the Earth Day Carnival, hosted by the University of Wisconsin-Platteville's Campus Green Project.
The carnival itself was run by Melanie Nanke, senior mechanical engineering major and Green Campus Project president. She has been running the carnival since 2013. The carnival's main purpose was to both celebrate the Earth and promote awareness about the issues that we face in conserving our planet. The carnival featured a scavenger hunt, a brat sale and a bike raffle.
"We want sustainability to be fun and accessible, so the carnival is a great way to let people know who we are and what we believe in," Nanke said.
Nanke also said that the carnival served as a fundraiser for the Edible Gardens around campus. A number of local businesses and several UW-Platteville student groups were in attendance, including the Biology Club, Reclamation Club, Horticulture Club and the Theta Phi Alpha sorority.
Another group that attended was the Pioneer Restore.
"I kind of think of the Restore as a weekly campus garage sale," senior media studies major Ethan Davis said.
Another local business that was present at the carnival was the Platteville Sunflower Oil Company. The company is a non-profit, run by UW-Platteville students and all of its products are locally produced.
"Sunflower oil is better for you than both olive and canola oil, because it has less saturated and polysaturated fats," Kyle Schmidt, junior sustainable renewable energy system major said.
Schmidt also said that the company is trying to give back to campus and the Platteville community. One way they're doing this is by working to improve some of the trails around campus. The company is also working to help out other local businesses in Platteville.
"I went last year and had a good time so that's why I went back this year," senior biology major Kolten Kline said. "It's a good and friendly atmosphere and the people who run the carnival are cool and care about the environment."