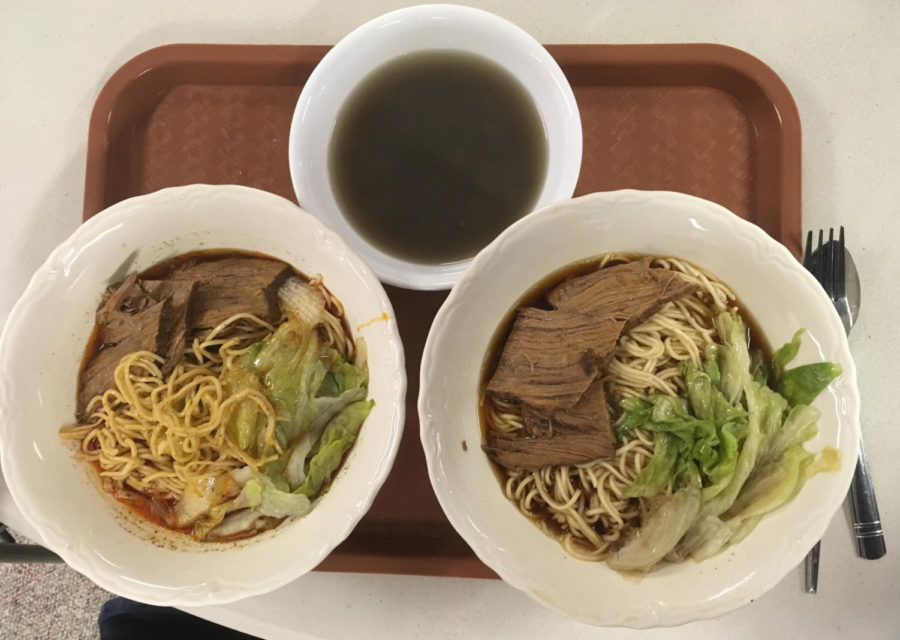 Kelsey Crosby photo
Graduating senior mechanical engineering major Yiyi Zhao and junior civil engineering major Zongxin He spearheaded an authentic Chinese food fundraiser this past Sunday. The basis for this fundraising was to assist with plane ticket costs so Zhao and He could go to China. Zhao is an international Chinese student and He is a Wisconsin native of Chinese descent. They had assistance from their fellow friends at UW-Platteville.
The fundraiser served Chinese Xiangyang Beef Noodle, which is comparable to ramen noodles with spicy and non-spicy versions. There was also rice soup which was unlimited with the meal. Everything was made from scratch, the broth to the ramen noodles to the rice soup.
"I think it's mainly because as international students, there aren't many opportunities for us to find some way to earn money, other than at school, through our own work," Zhao said.  "We need money for plane tickets and living costs, so I think this was a good way for us to help with the costs and earn money. That was the origin of this idea [to fundraise with ramen]."
Zhao explained that the reason they planned on doing the fundraiser was not just for themselves but to payback the school, the community and the church who had let them use the basement for the event. They hope that they made enough funds to donate them and still have enough leftover to cover costs.
"We were trying to make the dish as close to the Chinese dish as possible," Zhao said. "Why Ramen? Because it tasted different and no one has really done something like this [make homemade ramen for an event]. This idea began to come out of my head and I talked to Zongxin about this idea. I really wanted to work doing something that I enjoy, and I enjoyed it."
Advertisement was done through e-mail and social media for people to register earlier for the event to get a dollar off of the $6 bowl charge. According to the team, it helped a lot with the traffic of people coming to the fundraiser.
"I heard about [the fundraiser] from my sister, who took me [to the fundraiser], and I was excited to eat food," sophomore Lancaster High School student Matthew Crosby said.  "I really liked the ramen and the bowls were much bigger than I thought they would be. I had both a spicy and non-spicy version of the ramen, and I preferred the spicy version because of the flavor it had to it. After eating two of the bowls, I felt like a real man."
Zhao concluded that the event went very well, and they had a lot of support. He felt that people were seeing their efforts, and we're not joking around.
"We got some really good feedback and it was surprising, we didn't expect this many people to show up," Zhao said.
They had people who didn't previously register for the event but were still able to get food and enjoy the meal.
"The event was a success and it was a good start for our first one," freshman civil engineering major Eli Harris said.
This was the first event and they are looking forward to doing more in the foreseeable future.