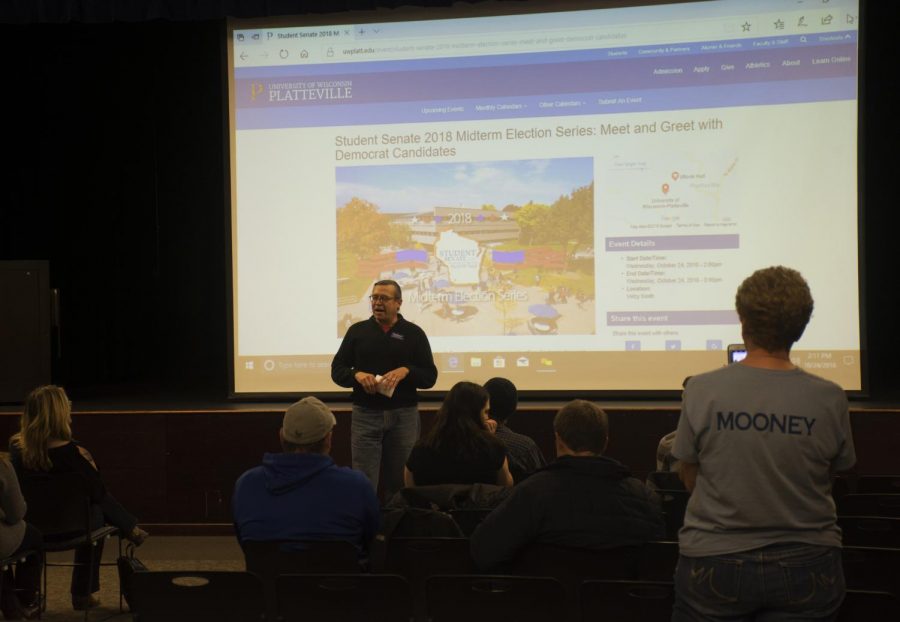 Jacob Thomas photo
With the 2018 midterm election coming up, Student Senate held a midterm election series for students and faculty to attend and meet the candidates. On Oct. 17, Steve Toft, Travis Hartwig and Jay Schroeder were on campus representing the Republican Party. 
Toft is running for Congress as a Republican representative. According to Toft's campaign website, he had never planned to run for any political position, but since he had been serving in the army for 32 years, he felt the need to step up and serve his country in Washington as well. 
Hartwig is running for the Wisconsin State Treasurer. "The Treasurer's office is at a crossroads. After decades of decreasing responsibilities, last spring voters chose to keep the office," Hartwig said.
On the website, he explains that he wants to work to create a treasurry department that will protect taxpayers by providing them with quality services. He stresses that this election is important because it is about making the state more efficient and effective for the people of Wisconsin.
The final Republican representative was Schroeder, who is running for Secretary of State. According to wisconsinvote.org, Schroeder believes that the government needs to downsize when they can and that the position of Secretary of State is an ineffective position. He wants to work to make the position more effective. 
On Oct. 24, Student Senate also brought the Democratic candidates Kriss Marion and Mike Mooney to campus. Both candidates discussed why they were running to students who attended the event. The session started out with both representatives explaining what got them into politics and their views on different topics. Both candidates are close to Platteville and the Grant County area. 
Marion explained that she moved to the area in order to give her children that small town feel that she had as a child. She told a story about how her son was obsessed with the Pentatonic River and how the neighbors watched out for him when he traveled too far down the river. Marion got into politics when she ran for her local council to make a change in the local water and how to preserve it. She is running for the Wisconsin State Senate. 
"I'm running because I see the best days for Southwest Wisconsin ahead of us, not behind us. I'll fight to make sure our tax dollars are reinvested in our communities so our families, farms, Main Streets and businesses can thrive again," Marion said.
She says that she is looking out for Southwest Wisconsin because she is from here; she lives in Blachardville, so she sees the changes that are happening around the area. 
Mooney explained how there are many different issues and changes happening in the Grant County area. He made a living as a sheep farmer with his wife. He explained that while all his friends moved west and east, he chose to move to a small town in Southwest Wisconsin. Mooney is running for the Wisconsin State Assembly District 49. 
Mooney continued to explain how he valued community and he wants to work to make sure that Southwest Wisconsin stays rural and that farms are able to stay in business. 
Voting for the midterm election happens on Nov. 6 and every vote counts. Student Senate, as well as the representatives who are running for these positions, encourage students and faculty to vote.