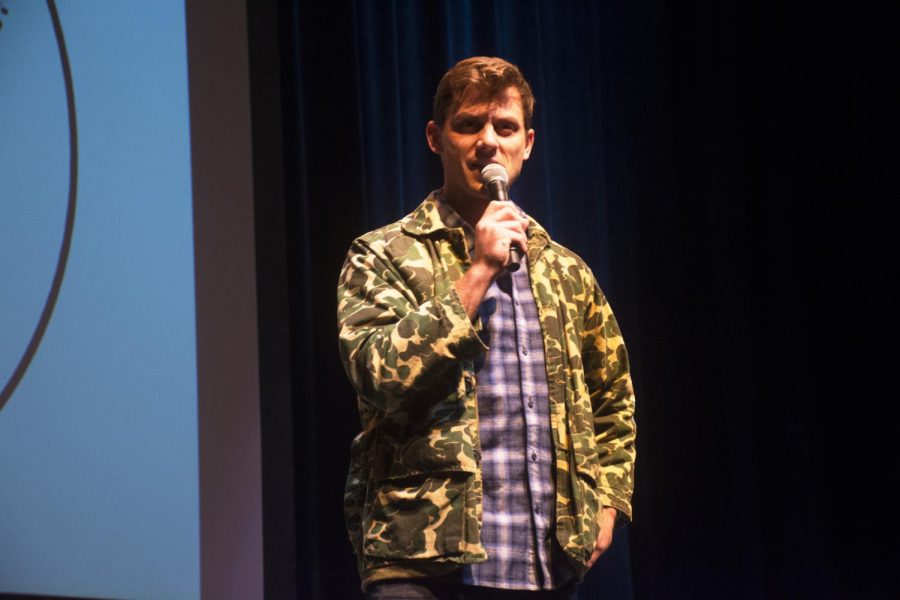 Jacob Thomas
Charlie Berens, a comedian, host, actor and Emmy-winning journalist, presented his show, the Manitowoc Minute, to a sold-out audience at the University of Wisconsin-Platteville on Nov. 2. The Manitowoc Minute is a video series displaying Wisconsin's most stereotypical characteristics. Berens, the creator and a Wisconsin native, started the video series and transformed it into an hour-long variety show where he presents satire about the Badger State. 
"I had my first inclination to pursue journalism when I was in high school," Berens said. "I worked for my high school newspaper. My brother was the editor-in-chief at the time, so I looked up to him in that way. When I got to UW-Madison, I had a number of different mediums to choose from. I had the college newspaper, Twitter was emerging and blogs were huge. I always loved storytelling, and now I am able to pursue that avenue through the Manitowoc Minute. I want to have an impact and tell the stories that aren't often being told."
Berens has been sharing the Manitowoc Minute experience throughout Wisconsin and Michigan since Sept. 7. While on tour, his video series even takes a stop at Apple Fest in Gays Mills, Wisconsin. His tour will continue until Feb. 8 and includes stops in Illinois and Minnesota. 
"The tour has been great," Berens said. "I love seeing parts of Wisconsin that I have never seen before, even when you get lost. Growing up in the state, we tend to go on our usual paths, whether it is to your grandparents or a cabin up north. I have had a lot of opportunities to meet groups that make up what Wisconsin really is, including a show in Bowler, Wisconsin, for the Mohican tribe. It is great to learn about their culture and all of the people that we have throughout our state."
When Berens graduated from college, he decided to explore new places outside of Wisconsin. He has worked at news outlets in Texas, South Carolina, Michigan, California and Washington, D.C. His character simulates the voice of a Wisconsin native, a sound that he has tried to avoid throughout his news career. He never realized that his work would bring him back to Wisconsin, but he is excited that it did. 
"Through a character, you are allowed to say things that maybe you wouldn't normally say or feel comfortable saying," Berens said. "With this character, I focus on a small-made-big comedic approach. The character takes something that seems small and creates humor by making the voice and situation a big deal. I also love embracing all of the things that I have known throughout my life. This character is an outlet for these experiences to come out in a way that I think is fun and enjoyable for people who know and love the Wisconsin culture. When you go out and see many different places, you also see that Wisconsin has so much to offer."
Along with what happens on stage and through his digital media presence, he enjoys playing music, biking and boxing. "I'll admit that I tend to get caught up in my work, but when I do take time for me, I just like hanging out," Berens said. "I also love fishing and watching comedy."