Open Talent Night:
The start of something new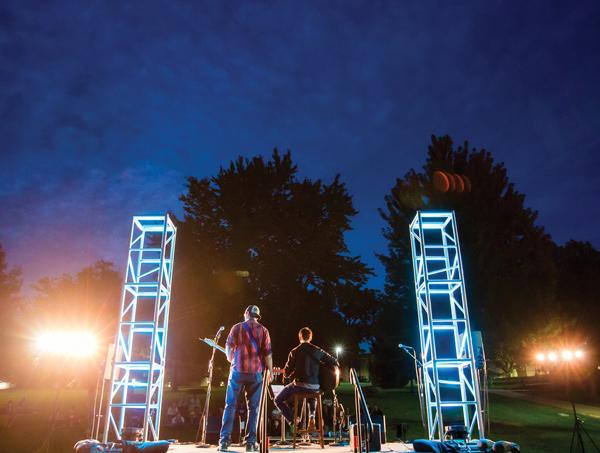 From Open Mic Night to Open Talent Night, Campus Programming and Relations is going a new direction to show off the University of Wisconsin-Platteville's student talent. This year they are starting something new by hosting Open Talent Night.
Tuesday Sept. 23 was the first ever Open Talent Night. Just like Open Mic Night, anyone can sign up and show off their talent. The point of Open Talent Night is to get away from performers just doing singing acts. CPR's goal is to have this completely replace Open Mic Night and show off more of what the campus' students have to offer, hoping to bring in more participants with a variety of talents.
"We are slowly changing to help include all forms of talent," Masees Mesdjian, senior industrial engineering and CPR employee, said.
"I believe that the idea of open talent as opposed to open mic is an excellent opportunity for groups of people to get together. It's a great time and I hope to attend another event like this soon," Tom Brady, senior mechanical engineering major said.
Open Talent Night had a collection of acts for it's first run. There were a lot of musical acts, however one group did take advantage of this new event. The Parkour Club choreographed an original routine to shake things up.
"I really enjoyed the parkour group that performed. I had the opportunity to speak with them after the show was over about their routine, and when I mentioned a portion where they had made what looked like a human gear box, they all started high-fiving each other exclaiming 'Yes, it worked!'" Brady said.
"The fact that there was a parkour group was pretty neat," Jason Foster, senior mechanical engineering major said.
The event took place on the North Lawn of the Markee Pioneer Student Center, with the stage being set up right outside the door.
"It was a nice change of pace from being inside all day.  I wish there would been some kind of seating though besides just the ground," Foster said.
"We hope to get Open Talent Night to be once a month like Open Mic Night was. We hope to see more talent coming out from the students," Mesdjian said.