Faculty art showcased at Nohr Gallery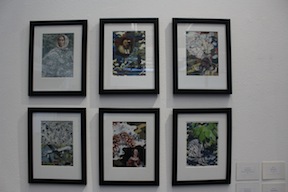 The faculty art exhibit in the Nohr Art Gallery opened on March 3 and will be open until April 2. Senior Art Lecturer Carole Spelić organized the exhibit with the help from Art Gallery Manager Tom Cabezas.
Spelić had three large pieces on display made from mixed fibers and other elements. She received help from four students: Jared Bergstrom, Megan Sporre, Tomy Xiong, Ron Bichler. Spelić said that she was inspired by the work of Carl Andre who created large, masculine pieces that were manufactured and constructed using metals. She wanted to recreate that with a feminine touch.
"I'm on a fibers tangent right now," Spelić said.
The exhibit features art by Art Professor Steve Vance, Senior Art Lecturer Bruce Howdle, Art Instructor Monica Kmak, Distinguished Lecturer of Art Richard Moninski, Assistant Art Professor Gregory Nelson, and Art Lecturers Daniel O'Brien, Tyler Ostergaard, Diane Sterba and Peter Flanary.
Howdle lectures at the University of Wisconsin-Platteville and uses his free time to create art pieces primarily made of clay for home décor. His largest work measured 30 feet by 50 feet. He drew inspiration from his personal experience of being raised on a farm with parents who enjoyed the outdoors.
"I am in support of my faculty and everybody involved here," Howdle said. "It's an honor to be a part of this."
Moninski said that his pieces were inspired by his interest in repeating patterns in fabrics that he chose to paint on. He also has an interest in "stylized rendering of plants and flowers." Moninski said that his favorite piece is Sassafrass and Acanthus, a medium of acrylic and marker on digital print.
"I'm enjoying being in this company of artists," Moninski said. "The show looks really good and I am pleased with the way the art was installed. I'm glad that so many people showed up for the opening."
Jennifer DeCoste, interim vice chancellor for advancement and diversity, attended the opening and could not decide on her favorite piece of the night. DeCoste is from Mineral Point, and being that most of the featured artists are from Mineral Point as well, she wanted to come to the opening to support her friends.
The music from the gallery opening was provided by Allen Cordingley, on saxophone, Cody Wisman, on conga drum; Andrew Jonas, Victoria Dolfin, Alaina Markham, Sean Garde, and Joe Zmek all on saxophone.