Agriculture program loses professor
Dr. Annie Knwa-Muzinga leaves after 16 years. Students honor her legacy as she says goodbye.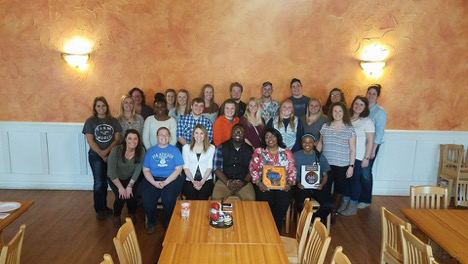 Hang on for a minute...we're trying to find some more stories you might like.
Dr. Annie Kinwa-Muzinga started teaching agriculture business courses at the University of Wisconsin-Platteville in 2002. However, the agriculture program will be losing a big asset to their program as she is leaving in August to teach agribusiness courses at Morningside College in Sioux City, IA. Kinwa-Muzinga is a professor that has truly made a positive impact on her students.
"Doc Annie is someone that you can't find everywhere. She has empathy as well as a strong work ethic. You don't see that in professors anymore," senior agribusiness major Jenna Preston said. "She dedicated 16 years to UW-Platteville, and she has made an impact on students that will last a lifetime, in a good way. She's a special lady."
Kinwa-Muzinga has taken her role as a professor even farther as she has cared more about her students than some may realize.
"She came to the hospital when I was still in a coma, and she said this prayer that my parents still talk about to this day.  After she said the prayer, I smiled. She then said she will be back soon," Preston said.
Kinwa-Muzinga became more interested in agriculture when she came to the United States, and she saw the diversity within food production. She compared it with her original country, Democratic Republic of the Congo, and asked herself what she can do as she wanted to be able to help make an impact on agriculture. The 360 degree change for her was learning how agribusiness works in the United States and how people change the way to cultivate crops and provide low cost food to the customers.
"When I die, I want to have an impact and be known for that. It wasn't in my head originally to stay here as I wanted to go back home and help the widowed women in my country, but God changed that plan and now I did that here with the students," Kinwa-Muzinga said.
Throughout her time here, she has taught agribusiness courses, was the co-director of the agribusiness program, led international education programs to help them learn that "Africa is not the jungle they expect it to be," advised Pioneer NAMA for 12 years and has been in contact with former and present students, playing the role of "mom", or "tough mom" when needed.
"The greatest thing Doc Annie taught me was to do everything with compassion and care. When you embody these two traits, you do your best work," Platteville alumnus Kallie Jo Kastenson said. "Doc Annie has given many students the opportunity to learn, grow and become better individuals. I cannot imagine the school without her, as she has taught me such a great deal."
Kinwa-Muzinga has helped countless students prepare for their future careers.
"Life is complicated and a learning experience. There is always something new you learn in every class and day and you need to be open minded to learn," Kinwa-Muzinga said.
Kinwa-Muzinga is a challenging professor but students were able to learn from that challenging style. She helped students to connect what they learned on the farm to what she taught in class to create the full circle.
"After the first 'tiny quiz' and 'tiny exam', I learned quickly that she meant business. I think everyone should know that even though she's a tough professor and her classes are tough, she cares. She really does care about her students. This isn't just a job for her; she is invested in all the students here and wants nothing more than for them to succeed," senior agribusiness major Hunter Asche said.
"Dr.  Annie has impacted me in a lot of ways as she is the kind of professor to push you. Her classes are difficult for sure, but she believes in all her students and never for a second stops believing in them. Dr. Annie has taught me that you are capable of so much more than you think."
Kinwa-Muzinga has helped shape the program here, and the sadness of her leaving has been expressed through numerous students.
"While I am sad to see Doc Annie go, I am glad she is taking the opportunity to be with her family. I know she will make an impact on her new students and they will appreciate their time with her just as I have," Kastenson said.