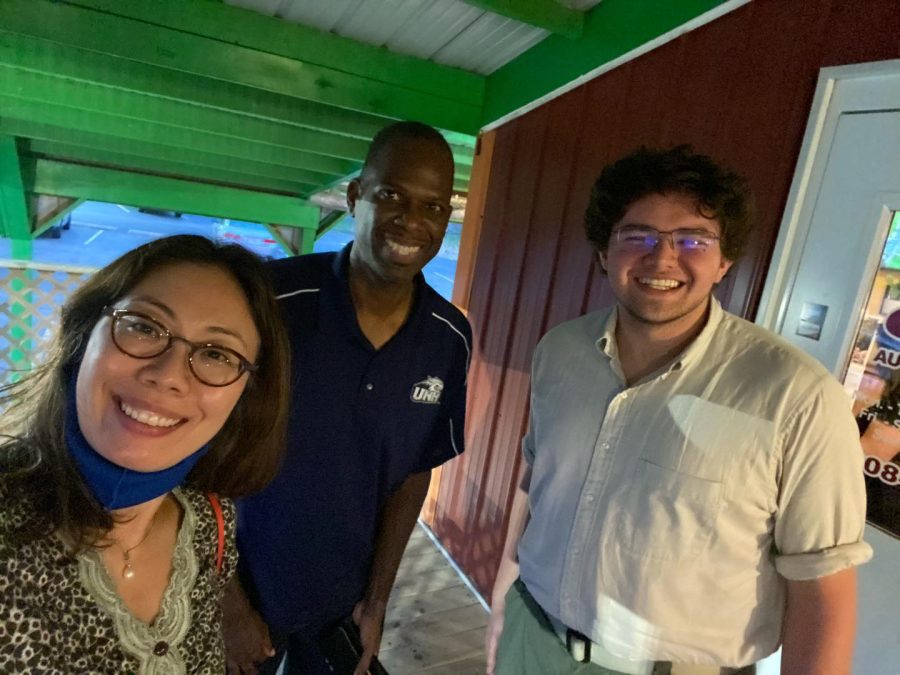 The Exponent interviewed violist Dr. William McClain and pianist Dr. Kaju Lee, who both performed in the guest artist recital "Glass Slipper 'n Things" on April 24. Dr. McClain also presented "Concert Black," a presentation about his career as "an African American conductor and the challenges presented in the world of academia and classical music for underrepresented groups," as stated by the event poster.
Dr. McClain currently serves as the Music Director and Conductor of Millikin-Decatur Symphony Orchestra and as an Associate Professor of Music at Millikin University, a private university located in Decatur, Illinois.
Dr. Lee currently serves as the Piano Area Coordinator and Assistant Professor of Piano Pedagogy and Collaborative Piano at UW-Platteville.
Dr. McClain spoke in his presentation about the professional atmosphere of classical music and the intersections of talent, race, class and place. In the interview with the Exponent, he expounded more upon his personal experience with such factors.
Various factors of his upbringing in Washington D.C. directly, and indirectly, guided Dr. McClain to classical music.
Of his first experiences with music, his church's choir introduced him to a wide range of liturgical pieces. The senior choir, comprised mostly of the older generation of church members, sang more classically composed pieces, while the younger choir sang the more boisterous pieces.
Dr. McClain noted that when he was younger, music had been mostly extracurricular. The church choir, music camp and other activities had not been his primary focus. Dr. McClain jovially remarked he chose his first instrument, the trumpet, because "it looked cool." Once he reached the end of high school, though, Dr. McClain decided he wanted to pursue music academically and professionally.
Interwoven into the discussion of instrument choosing and musical ambitions was the awareness of place, race and class. 
"Growing up in the inner city of Washington D.C., I was very concerned with fitting in and not standing out," explained Dr. McClain. "I did not want to carry a large instrument walking the streets or catching a bus due to peer and cultural pressure and not to draw negative attention to myself." Thus, he had learned smaller instruments like the trumpet, violin and viola.
Similarly, for Dr. Lee, who spent her childhood in South Korea, its culture valued teaching children piano, which guided her naturally toward her mastery of the piano.
Along the journey of growing into his musical ambitions, Dr. McClain pointed out the lack of diverse musicians from which he could find role models.
"Earlier in my career, it was difficult not having as many role models of African Americans successful in the classical music business.  There was only a hand full of conductors whom I could look up to who had similar backgrounds."
Additionally, McClain pointed out the historically elitist culture of classical music. Families who are wealthy enough to purchase instruments and pay for lessons, as well as pass down instruments, knowledge and wealth, could more easily participate in classical music.
The classical music community still has a remnant of this elitism. For instance, most highbrow, professional orchestras and ensembles still mostly select conductors of European origin and education because of their physical performance style when conducting.
However slow the process of change may be, the results are tangible. As McClain described, the process to diversify the classical music community cannot happen overnight. 
Ensembles and orchestras, which oftentimes audition anonymously to prevent unnecessary bias, have been comprised of diverse instrumentalists for a while. 
But for positions like the conductor, whose performance arises from their physical presence, barriers still exist.
While the classical music community may have these institutional barriers to overcome, it also provides a tight, intimate environment for musicians. 
Dr. McClain and Dr. Lee both shared their experiences that, when playing music, they can be transported to other places or times – to when they first learned a piece in college or when they were teaching a piece to some of their students – or connect with their peers around them.