Baseball in full swing, start with preseason roadtrip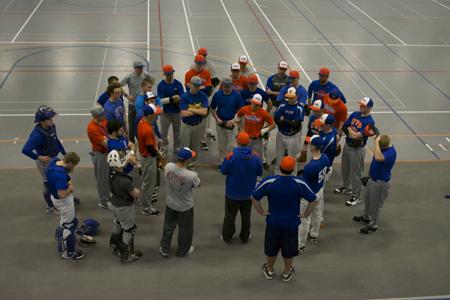 Justin Brunner, Student Reporter
March 6, 2014
Hang on for a minute...we're trying to find some more stories you might like.
The University of Wisconsin-Platteville Pioneer's baseball team will be stepping out on the diamond again on March 9 in Jacksonville, Ill.
The preseason contest places the Pioneers, who finished last season 10-30 against a Luther College squad, at 11-22.
The game will be the Pioneers' first outdoor action of the preseason, while the team has been practicing exclusively indoors during the offseason.
The team will also travel to areas of Florida, including Port Charlotte and Fort Myers, in order to compete in several tournaments.
Other midwest teams participating in these tournaments include Bethel College (Minn.), Loras College, Luther College and the University of Dubuque.
"We head south every year to open up our season. We will play other schools that, like us, must head south because of early season weather," head coach Eric Frese said. "It's early season games that you never know how [they] will go with being outside for the first time. We will find out what is good, what needs some tweaking and fix it before WIAC action kicks in."
Senior pitcher Tyler Nelson led the team in pitching last season with an earned run average of 3.04.
Nelson acknowledges the significance of the trip, understanding that the importance is to maintain a clear, serious focus on future goals.
"We aren't looking at the Florida trip as a vacation but rather as a business trip. We're expecting to build momentum off of some big wins to propel us into our difficult conference schedule," Nelson said. "It's the first time we have done a week-long Florida trip, and I think the team is extremely excited."
Senior first baseman Zach Demmon will return for his final year of play, after leading the team in hitting with a batting average of .336 last season.
"Since this is my fourth year on the team, we have traveled south to play before, but never to Florida. We always open in Jacksonville on the turf fields to start the year, but Florida will be a whole new experience," Demmon said. "Preseason baseball is very competitive and helps us to know what we still need to work on."
Second-year outfielder Bobby Bean embraces the competitive aspects of the trip.
"When we're in Florida, most of the teams will be ranked in the top 25, so it will be a good test for us as a team," Bean said. "In the past, we've traveled to Alabama, Mississippi, Tennessee and Arkansas in the preseason. We played really good teams while we were down there, but the weather didn't always cooperate with us, so it'll be nice to play in Florida."
Also, the team hopes to improve on last season's 10-win campaign.
"Our expectations, as a group, are to take care of the little things: play and practice one pitch at a time. If we can consistently do this, then wins and losses will take care of themselves," Frese said.
While the team has a lot of young talent, Frese places a majority of the responsibility on the team's four returning, senior leaders for determining the attitude and energy of the team.
"We have 21 freshmen and sophomores on the roster. We have new energy and our older players have done a great job of making everyone feel like they belong," Frese said. "Our seniors Zach Demmon, Tyler Nelson, Shane Murphy and Ryan Duva will have a lot to say about how this season goes. They all have had success here as players, but those guys are the guys who bring the great attitude with them; it has definitely become contagious with our younger guys."
The team is heavily focused on setting and accomplishing various important goals throughout the regular season.
"We've put a big emphasis on goals this year and how to set them," Bean said. "Our team goals are to win every pitch and play two games in one day. If we can do that, things, like batting average, wins and returning to the conference tournament, will take care of themselves."
Demmon places an extra emphasis on crucial situations down the stretch of the game this season.
"This year, I want to continue to improve on my confidence at the plate and getting the big hit when the team needs it," Demmon said. "There comes a time, in some games, when a player has the opportunity to break open the game with just one big hit, and I want to be the guy on the team that's up there when it happens."
Nelson also strives to shine in crucial situations, but rather on the mound than at the plate.
"Personally, I want to improve on consistency. I want to be able to make any pitch, in any situation and any count," Nelson said.
Bean recognizes the two seniors' prominent leadership roles on the team.
"Zach [Demmon] is going to be our everyday first baseman and a middle of the order hitter. He's a pretty loose and fun guy, but when something needs to be said, he'll say it and he leads by example," Bean said. "Tyler [Nelson] is going to be the first guy out of the pen, and he's also a leader by example and a good guy for the younger pitchers to look up to."
Demmon is ecstatic about the final season because he has the opportunity to compete with the team as a Pioneer.
"It's more important to me to just play every game like it's my last and make memories with the other 29 guys. Between the returners and the new guys we brought in, everyone's buying into the process of culture that we're trying to establish within the program," Demmon said. "Despite being stuck inside, the team's firing on all cylinders, which makes it exciting to put it all together once we get outside."