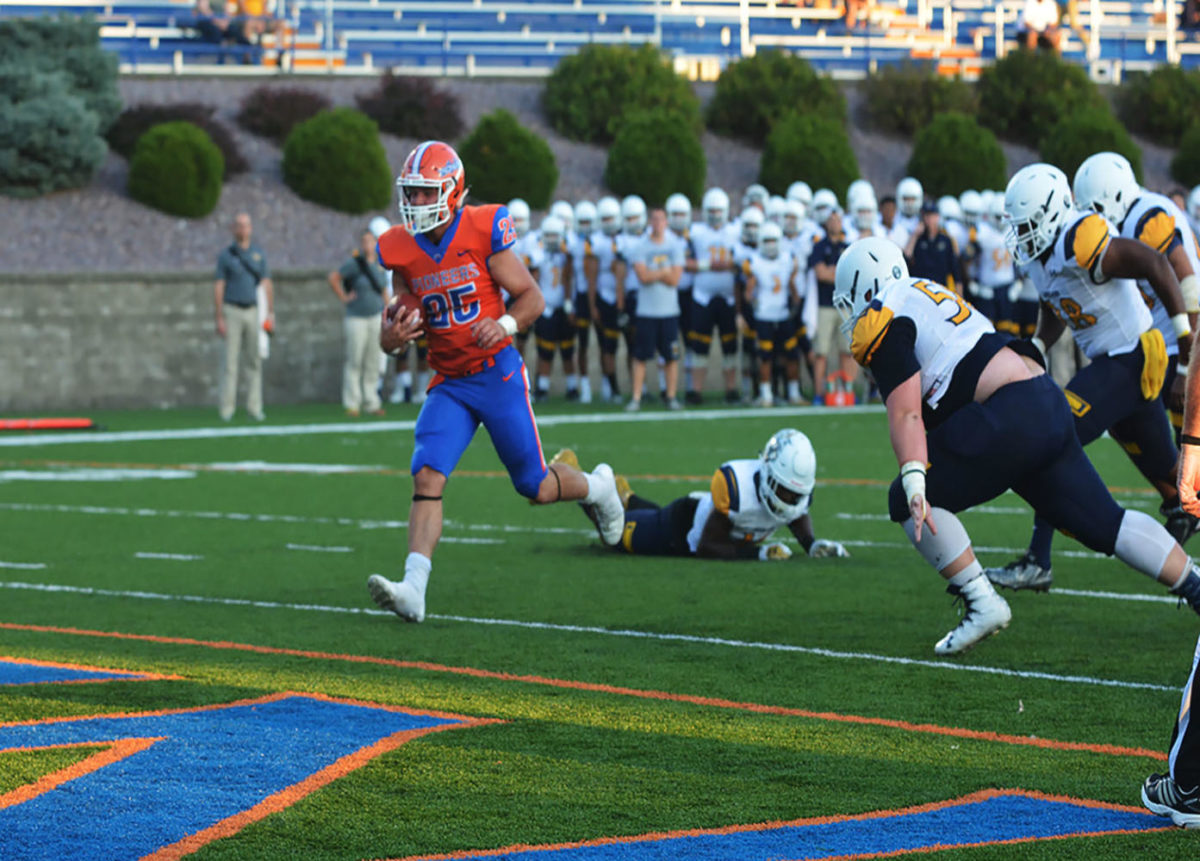 Dakota Gratz photo
The University of Wisconsin-Platteville football team played their first night game in six years on Saturday, Sept. 23. To celebrate, UW-Platteville beat Lakeland University 56-22 thanks to their 28 points in the second quarter. Lakeland University is located in Plymouth, Wisconsin. Not only was the team excited for their game under the lights but the fans seemed to be more into the game than usual.
"I liked the game being at 6 p.m.," junior software engineering major Emily Bonikowske said. "I think it was easier for me to make time for it in the evening than it is in the early afternoon. The temperature was better and it's always fun to watch a game under the lights."
Lakeland started the game on offense but couldn't get anything going and went three and out. After the Muskies' punt, the Pioneers drove down the field and scored on a Sean Studer touchdown run.
The second quarter was full of excitement as UW-Platteville and Lakeland scored a combined 42 points. The Pioneers were the first to score and had two consecutive drives end with a touchdown pass from Tyler Blang. After the Muskies failed to convert on fourth down, the Pioneers took over at their own four yard line. The Muskies forced a safety and snapped the Pioneers' 28 straight unanswered points. Building off of the change in momentum, Lakeland received the ball after the safety and scored their first touchdown of the game. Lakeland's demeanor changed as they stopped UW-Platteville and drove down the field to score, closing the deficit to 14. The change in momentum switched back to the Pioneers after Blang connected with Mark Johnson for a 42-yard touchdown, giving the Pioneers a 35-14 lead. The Pioneers held a 42-14 lead at halftime, and they cruised the rest of the way for a 56-22 victory.
The Pioneers racked up a total of 516 yards with 286 of those on the ground. The Pioneers converted on 8 of their 14 third downs, and they went 5 for 5 on fourth down. Studer had 118 rushing yards and two touchdowns for the Pioneers, and Johnson had three touchdowns and 155 receiving yards in the win.