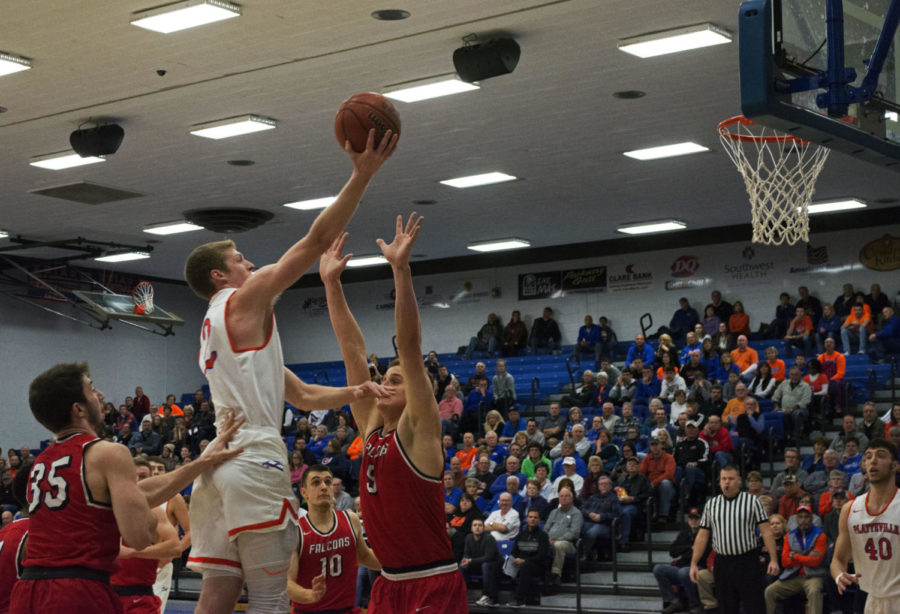 Morgan Hays photo
The University of Wisconsin-Platteville men's basketball team fell to the University of Wisconsin-River Falls 71-66 on Friday, Feb. 23 in their Wisconsin Intercollegiate Athletic Conference tournament semi-finals. Pioneer fans filled Bo Ryan court to near capacity in anticipation of the number one seed Pioneers. Fans were dressed in all forms of attire ranging from UW-Platteville gear to National Basketball Association jerseys. The excitement radiated from start to finish as UW-Platteville fans wanted to see their team come away with a victory and earn a home game for the conference championship game. Platteville was unable to stop River Falls, as they fell early in the game and could not catch up until late in the second half. Fouls, turnovers and forced shots by Platteville helped River Falls regain their lead.
The first half started slowly for Platteville after they allowed River Falls to drain a three-pointer on their first possession and could only respond with two points. From there River Falls went on a 10-0 run getting an early 11-point lead until Platteville ended that run with a three-pointer with 15 minutes left in the first half. This trend continued as River Falls maintained 37-30 lead heading into the second half. During the first half, UW-Platteville was around 37 percent from field goal range and 30.8 percent from three-point range compared to a River Falls 55.6 field goal percentage and 35.7 three-point percentage. Not all was lost for Platteville in the first half. They only had four turnovers.
The second half started out much like the first half for Platteville. River Falls was able to maintain a steady lead throughout the second half until the five-minute mark when sophomore guard Carter Voelker was fouled during his layup and made his "and one" to cut the deficit to three and spark what looked like a promising come back. Freshman guard Quentin Shields made a three-point shot to cut the lead down to two. It wasn't until just under three minutes left in the game that Voelker made another layup on a fast break and gave the Pioneers their first lead of the game.
Another turnover committed by River Falls led to two more points in the lead.  Junior guard/forward Robert Duax made his free throws to extend the lead of Platteville to three. After a forced shot from River Falls with 1:31 left on the clock River Falls got the rebound and called a timeout before making a go-ahead three with just under one-minute left. They extended their lead and defeated Platteville 71-66.
They were outdone in almost every category except for turnovers and free throw percentages. The Division  III NCAA tournament, begins March 2 at 7:30 at Bo Ryan court as Platteville takes on Monmouth. If the Pioneers win their first round match up, they will face another home game Mar 3.