ATHLETE OF THE WEEK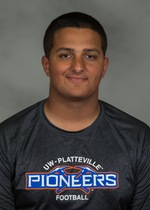 Name: Ashraf "Ash" Assad
Hometown: West Allis, WI
Major: Computer Science
Year: Freshman
Sport: Football 
What is like being a player on the football team? 
I tore my ACL so honestly, it's stressful and boring. You get to watch everyone do the work-outs and go 100% but you just have to sit there or sit out because you can't do everything yet. And it's just stressful because I want to do it but I can't because I'll hurt myself.
Do you have to modify your training to do the exercises? Yeah, I have to watch how much weight I can do and I can't do legs in general because of what happened to my knee. So I have to watch any weight I do and I can't really carry that much weight so when it comes to doing any of the exercises I have to watch myself before I put too much pressure on it and something happens. 
Do you struggle with motivation when you're injured?
Sometimes, yeah. There's points where I just want to come back so much but sometimes being there and seeing everyone doing everything just kills your mood. 
Do you plan to come back to football?
Yes. They said I should be back in time for August. I've just got to make sure I'm back in shape.
What advice do you have for injured players of any sport?
It takes time. You have to be patient with everything so you can actually come back and go 100% without re-hurting yourself. You don't want to come back too early and just end up messing yourself up again. That's what I've learned so far.