5 cases of mumps reported at UW-Platteville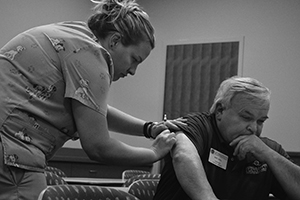 Since the first outbreak in mid-October, there have been five reported cases of parotitis, or the mumps, at the University of Wisconsin-Platteville. The mumps virus is contagious and is transferred through saliva and mucus.
Grant County Health Department Public Health Nurse Kim Pridnow said that those with the virus are contagious two days before they have symptoms and for five days after the symptoms start. It can take two to three weeks for the virus to show symptoms after exposure. According to the Center for Disease Control and Prevention, symptoms for the mumps include, "Fever, headache, muscle aches, tiredness, loss of appetite and swollen or tender salivary glands under the ears on one or both sides."
"If they start noticing symptoms, they should isolate themselves," Pridnow said. "If they go in to get tested, they should let the doctor know beforehand so they know to wear a mask."
Because the mumps is a virus, they cannot be treated with antibiotics, however, they can be prevented. Administrative Director of Student Health Services, Vickie Dreessens' advice to slow the spread of the virus is for people to practice good hand washing, avoid sharing beverages and to always cover their cough. Both Dreessens and Pridnow urge people to get vaccinated.
"I encourage people to check their immunizations," Dreessen said. "They should have had two doses of MMR (Measles, Mumps and Rubella) as a child. If they haven't, they should get vaccinated as soon as possible."
Dreessens said that the first MMR vaccination is given to children at 1 to 2 years old and the second at 4 to 6 years old. According to the CDC, "The MMR vaccine is very safe, and it is effective at preventing measles, mumps, and rubella. Vaccines, like any medicine, can have side effects. Most people who get MMR vaccine do not have any serious problems with it. Getting the MMR vaccine is much safer than getting measles, mumps or rubella."
On Nov. 2, the GCHD set up a free immunization clinic on campus. Pridnow said that 24 people were vaccinated that day. The clinic was only available for UW-Platteville students and staff. Pridnow said that the GCHD is hoping to hold another clinic sometime during mid to late November.
For more information about the mumps and its vaccination, visit cdc.gov or uwplatt.edu/health-services.