Frangela brings laughs to UW-Platteville
Frances Callier and Angela V. Shelton, also known as Frangela, gave University of Wisconsin-Platteville a night of laughs on Saturday Feb. 6 in the Markee Pioneer Student Center. The comedy duo are veterans in the entertainment industry and are known for roles in The Suite Life of Zack & Cody, The Cleveland Show, Hannah Montana, The House Bunny and He's Just Not That Into You.
At last year's Regional National Association of Campus Activities Conference, Campus Programming and Relations came into contact with Frangela and was able to book them in a 5X7 block for Saturday's performance. A 5X7 block indicates that the duo would be performing at least five shows in seven days.
"This is a part of a tour we are doing. So we were just up at UW-Oshkosh, we went down to Saint Ambrose, we're here, going to another six and seven places in this area. We are just full of Wisconsin, full of it," Callier said.
The duo have been working together for a long time and are no strangers to the Midwest. "Originally I am from Michigan and Frances is from Illinois, so we're Midwesterners," Shelton said.
The show began with discussing the cold weather in Wisconsin and how those living on the West Coast close the entire city down if there is a slight rain shower. As the show progressed, laughter began to fill the audience. A wide array of jokes involving binge- watching television until "you're sick in the eyes", dating prisoners and making fun of the fact that being possessed, such as in horror films, is an easy way to lose weight drew a few laughs. The big hit of the night seemed to be the discussion of the variety of friends and roommates that a person may have to deal with. They explained the "ride or die best friend, the dumb friend, the dirty roommate and the naked roommate."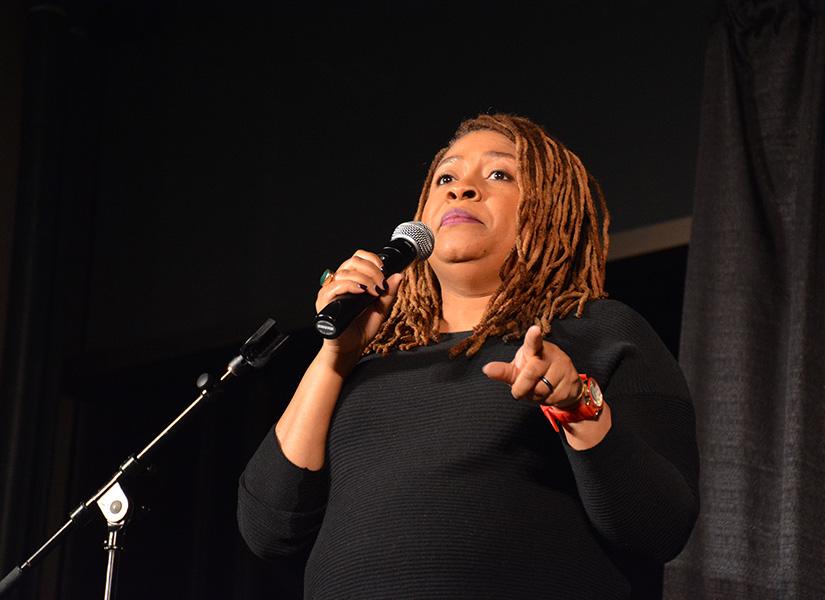 "A lot of the references were on point," senior general engineering Marty Mathews said. Mathews especially identified with the roommate references because of his Resident Assistant training. "Some of the stuff they talked about [is the] stuff they talked about in training," Mathews said.
The night ended with discussing the fact that, according to Frangela, "the worst lie you can tell, is the lie you tell yourself." Frangela continued the discussion by helping a young woman in the audience through a "rough day" by persuading her to say, "I am a Nubian princess and I don't have to put up with that."
Even with all of their comedy experience, both Callier and Shelton enjoy performing in front of live audiences the most.
"We love pop culture, we have a lot of fun talking to people. We talk to the audience a lot. College audiences are a lot of fun," Callier said.
Shelton feels the same as Callier when it comes to college audiences.
"[College audiences] are much more fun than club audiences. When college students come to a show they want to have a good time," Shelton said in comparison to club audiences. "It's totally fun with college kids. Everyone is there because they want to be, they don't feel pressured, there is nobody in the audience like "make me laugh" and it is a much more responsive audience.
Leave a Comment