Cake Walk for Family Advocates
Southwest Hall holds event for domestic and sexual abuse awareness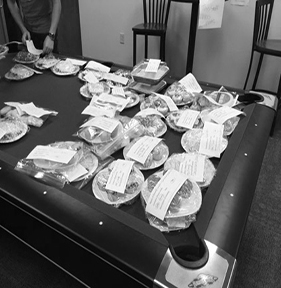 Let there be cake! On Nov. 2, Southwest Hall hosted their annual Cake Walk. The proceeds went to Family Advocates charity organization. The organization provides support to victims and survivors of domestic and sexual abuse.
The night featured two different games participants could play in order to win baked goods. A game of musical chairs was held in one room where people paid at least 50 cents to participate. Before the music would start, a representative from Family Advocates would make a short speech about the different services they offer and how amazing the community has been for the organization by having this event. Instead of using actual chairs, the staff made circles on the floor with numbers on them. When the music stopped you had to stop on a number and they would then call out a number and that person would win a baked good. They also had the game cornhole (bags) available in the lobby for those that wanted to play something different, or simply wanted a change of pace.
The staff working the event were mainly Resident Assistants that worked in the building.
"We are required to do it [help run the event] as RAs since it is our building putting on the program so we are required to do it, but even if I wasn't required to do it I probably would help out. It's a lot of fun and enjoyable to plan and put on," junior soil and crops major and Southwest Hall RA Katie Chipman said.
All the cakes and baked goods were donated to support the Family Advocates organization.
"Students and residents donate [baked goods]. Sometimes organizations donate but not always," said sophomore and business administration major Angela Leiser.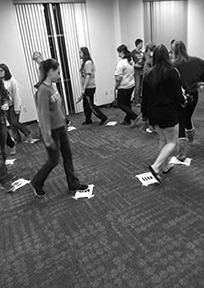 Even with the good attendance of the Cake Walk, there were still some left over cakes by the end of the night.
"Most [cakes] were sold," said Chipman. "We did end up having a few leftovers just because we didn't have quite as many people at the end but otherwise most of them we did end up getting rid of."
Those who attended thoroughly enjoyed the event and what it stood for.
"The money went to a good cause and I thought it went really well," said senior and forensic investigation major Michaela Pinion. "It was a lot of fun. My favorite part was probably getting free food."
Overall, the night went off without a hitch and really made an impact.
"We raised just over $300. Everything went really smooth, there was no issues at all just kind of flowed nice," Chipman said.
If you'd like more information about Family Advocates you can visit https://sites.google.com/a/familyadv.org/familyadvocatesinc/. The Family Advocates hotline is 800-924-2624 or 608-348-5995 and is open 24 hours every day.