Artist Spotlight: Gorillaz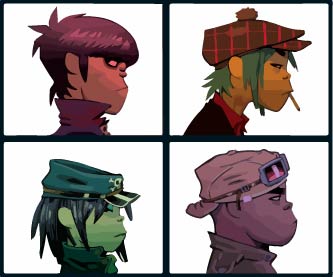 You know who makes me feel good? Who makes me happy, feeling glad? Yeah, that's right: Gorillaz. The "virtual band" that focuses on collaboration and only has two consistent members. You all probably know them, whether from listening to them, hearing "Feel Good Inc." or being in touch with memes like four or five years ago.
Gorillaz started in 1997 when Damon Albarn and Jamie Hewlett, the only two consistent members, watched MTV for too long and thought "so this is what hell must be like," and got to work. They released their first EP, "Tomorrow Comes Today," in 2000.
Their debatably most popular song, "Clint Eastwood," released as a single in March 2001, followed later that month by their first full album, "Gorillaz." In December 2001 they released the single "911," a song about the September 11 attacks. Finally, in 2001 they released "G-sides," a compilation album of B-sides and early singles.
In 2002 came the remix album titled "Laika Come Home," then silence for several years.
Eventually, 2005 saw new releases such as the single "Dirty Harry," followed by their album "Demon Days." That album has gone platinum six times in the UK, two times in the US and three times in Australia…oh yeah, and featured "Feel Good Inc." In 2007 Gorillaz released "D-Sides," another compilation album full of previously unreleased recordings, bonus tracks and remixes.
After a three-year hiatus, Gorillaz dropped the album "Plastic Beach." A year later they released their next album, "The Fall," alongside one of the singles from the album, "Phoner to Arizona." After that Hewlett and Albarn had a falling out which was seemingly at the time the end of Gorillaz.
Oh, but it wasn't. In 2016 they posted short stories for each of the characters in the band, and January 2017 they released a new single, "Hallelujah Money." That March they announced their new album with a release of four more singles, "Saturnz Barz," "Andromeda," "Ascension" and "We Got The Power." A month later they released another single, "Let Me Out," before finally releasing the single "The Apprentice" mere days before their album, "Humanz."
In June 2017 they released "Sleeping Powder," a non-album single. In October 2017 they released "Garage Palace" and finally the "Super Deluxe" edition of "Humanz," which featured 14 additional songs.
In May of 2018 Gorillaz announced their next project, "The Now Now," followed up with the single "Humility." Then, in June 2018 they released a variety of singles: "Sorcererz," "Fire Flies" and "Hollywood," before releasing "The Now Now."
Gorillas have released two new songs this year, "Momentary Bliss" in January and "Désolé" in February, as part of their upcoming album.
This week is another difficult one to choose my top five songs.
"Saturnz Barz." The song that first really introduced me to Gorillaz. I found it at a weird point in my life, and the song really helped me out. The kicking beat and Popcaan's accent really make the song work. When 2-D and the choir enter it really brings the song together, and I enjoy listening to it at deafening volumes.
"Rock the House" makes me want to dance. A little. And I have. Mostly while working too. It manages to somehow make recorders actually work in a song? Like, before listening to it, I didn't even know that was possible. It's kind of down-beat for a dance piece, but that works in its favor. It helps the song seamlessly incorporate the trumpet, drums and piano all at the same time.
"Désolé" has popped in and out of my head for the past two months. The really simple and repetitive chorus sounds really lonely and longing. It mirrors how Murdoc acts in the music video, like he's been forgotten by the rest of the band. The song's name means "sorry," and it does kind of feel like an apology.
"Rhinestone Eyes" got me to start exploring beyond "Humanz," reaching more into their other albums. The song is really electronic in nature, repetitive, like a solemn factory. 2-D's voice is more like telling a story than singing and works in its favor. A particularly dedicated fan went out and fully animated the music video back in 2017, which had only existed as storyboards beforehand.
"The Apprentice" starts off powerful and only grows through the song. It features Rag'n'Bone Man, who lends wonderfully to the first verse and chorus. Ray BLK joins in for the second verse, and then she and Rag'n'Bone Man join together for the chorus, and it's perfect. But, then Zebra Katz takes the final verse, and he goes in hard. While 2-D is mostly relegated to background vocals for this one, I think the song works perfectly as a whole.
Oh yeah, it's update time. Finally! After teasing the song almost five months ago, Cryoshell has released "Dive." The song continues on their atmospheric industrial rock theme, and the background music makes it feel like you're slowly descending deeper into the sea. The entire song as a whole feels like struggling to reach someone who's slowly drifting away from you, no matter how hard you try.
That's all for this week. As always, send feedback and criticism to [email protected] I'll see you all next time.