Construction, eh.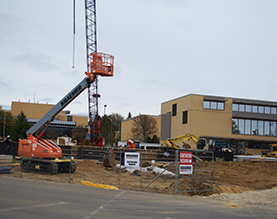 If you've been on campus, then you have probably noticed the construction by the PAC. The construction seems to have come out of nowhere, so I saw the opportunity to go around and ask the student body as well as faculty what they think of it.
"I think it's a great thing. These kids don't get enough exercise," said football coach Dick McKnight. "I'm glad they're doing it now and not over the summer or anything. That wouldn't make sense."
To help make up for lost time, kids are using hover boards to get to campus. Senior art major Kathy Bates said she saw three freshmen get stuck when cutting through the woods and had to run to class.
The construction is said to be happening to expand the PAC, however there's rumors that they are using to the space to put another engineering building.
"You could never have enough engineering buildings," junior environmental engineering major Sammy Soda said. "We don't even need a student center, just put another engineering building there."
An art class was seen walking to the site and sketching what they saw.
"I wanted my students to really draw what they thought was happening here physically and mentally," art professor George Heneley said.
Art student June Bug told us exclusively, she drew a sad face because it made her sad. She got an A on the assignment.
If you have any complainants to make about the construction and what it will be used for contact, the Raven Baxter at [email protected].