SPORTS STAR OF THE SEMESTER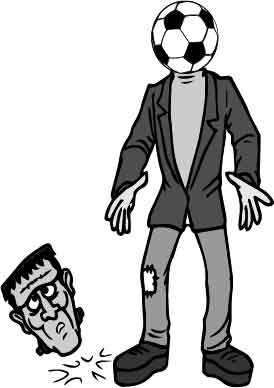 Name: Frank N. Stein
Hometown: St. Petersburg, Russia 
Year: Senior
Major: Biology with an emphasis in Physiology
Sport: Blo-Ball
What is blo-ball?
Blo-Ball is basically table tennis but without the paddles, instead we use or mouths to blow the ball across the table. 
How old were you when you started playing blo-ball?
I was six years old when I started training for the intense sport of blo-ball.
What inspired you to start playing blo-ball?
My grandfather was the St. Petersburg blo-ball champion in 1997, and that is what really inspired me to start playing and become serious about the event.
Where do you see yourself in five years?
In five years, I hope to be working towards my future career as a plastic surgeon. I would also love to be competing internationally for the Russian blo-ball team.  
What do you do outside of blo-ball and school?
Outside of blo-ball and school I like to do tree-shaping, extreme ironing and competitive duck herding.
What advice would you give to new players interested in blo-ball?
Don't be afraid to try it. It is a taxing sport since you have to have a large lung capacity, but it is all worth it in the end if you can make it to the international championships. Don't let anything stop you from achieving what you want.23