BET comic performs at UW-P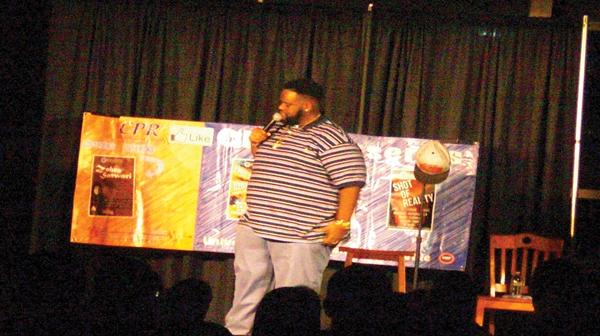 Comedian Ronnie Jordan took the stage, or as he called it "the porch," during his head­lining set as the University of Wisconsin-Plat­teville's Campus Programming and Relations kicked off its list of scheduled events in the Pioneer Crossing in the Markee Pioneer Stu­dent Center Saturday.
Jordan is best known for his work on the BET network, appearing on segments such as "P. Diddy Presents Bad Boys of Comedy" and "Martin Lawrence Presents the 1st Amend­ment Stand-up." Jordan also hosts "Oomp Camp Live."
Prior to Jordan's show, attendees weighed in on what they expected the Atlanta native's humor to be like.
"I think he will have pretty clean humor and will shy away from controversial topics," sophomore geography major Jon Ley said.
Jordan, who also performed at UW-Platte­ville in 2009, joked about topics ranging from twerking, First Ladies, glitter-wearing vam­pires, gravy-flavored water, Dora the Explorer and foul-mouthed babies. The comedian even briefly touched on topics that reached UW-Platteville students on a personal level with bits regarding the Second Street bathrooms and mo-ped gangs. Jordan brought his own brand of comedy to a seemingly receptive audience of approximately 300 students and staff.
Jordan closed his set by eating a glazed pas­try in a sensual manner and was eager to stay after to speak with fans, have pictures taken and sign autographs.
"His jokes really hit home," Ley said. "He was way better than I expected."
Even audience members with no previous knowledge of Jordan seemed impressed with his comedy.
"I didn't really know what to expect going in because I had never heard of him before, but he ended up being pretty funny," Greg Klimesh, a senior media studies major, said.
Event producers responsible for Jordan's appearance also said they were pleased with the comedian's performance.
"He's always good," Director of Campus Activities David Nevins said. "There's a lot of stuff people won't think is funny, but then, there's something where you go, 'hey, that's really funny.'"
CPR event producer Samantha Way also said she was pleased with Jordan's perfor­mance.
"He was hilarious," Way said. "Mak­ing people laugh is a great skill to have, and (Jordan)'s definitely got it."
Jordan can be reached on Twitter with the username @ronniejordan.