Students sell pottery, plants
Locally grown plants potted in student-made containers were lined up and ready for sale Thursday December 5 through Friday December 6 in the Platteville Rooms of the Markee Pioneer Student Center.
The sale, organized by the Horticulture Club, has been a continuing event over the last several years. However, this particular sale was the first time in which the Horticulture Club consulted the help of the Clay Club to create the pottery in which the plants would be sold.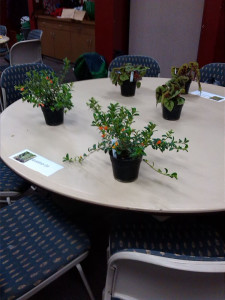 Prices on the plants ranged from $2-$5, and coordinating pots were $10-$20. In addition to the clay pots, there were a variety of coasters, decorative dishes and more.
Volunteers from the clubs said the customers had been an equal mix of staff and students and that many were looking to find the perfect holiday gift for a parent or friend. Customers were satisfied with the prices and glad to make their purchases while supporting the two clubs.
Members of the Horticulture Club coordinated the event and volunteered their time in order to raise money for several conferences with, in their opinion, the most important being the nationwide PLANET conference.
"It's a great place for us to meet with employers in the field and participate in various competitions," Katie Martin, Horticulture Club member, said.
The Horticulture club attends other numerous conferences as well as helping with the Girl Scouts Organization and Grant County's Family Fun Nights.
Clay Club members said they were happy to have contributed to the event, as they plan to use the proceeds to attend art conferences. They look most forward to attending Chicago's annual Sculpture, Objects and Functional Art conference. The SOFA conference provides an outlet for the members to find inspiration by viewing art works created by artists across the nation.
"We would also love to bring in artists to do demonstrations in the future but haven't been able to yet," Katerina Aspenson, Clay Club President, said.
The two clubs plan to continue their partnership to not only raise funds but to also recruit new members. More plants and pottery will be sold in future sales, the first of which will take place Mid-February.