Player to coach, Stallion's story from past to present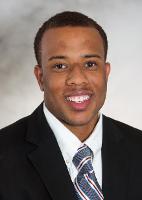 University of Wisconsin-Platteville basketball would not be the all-American-producing, top-20-contending program without the influence of student-athletes, such as Robert Stallion.
Stallion grew up in Cleveland, Ohio, and he was born in 1991; he was also raised as the eldest son under Tanya Edwards and Anthony Stallion.
Since a premature age, Stallion wanted to play basketball with the older children in his neighborhood, but his dad knew that his son was not ready for the competition.
Stallion's father, who he gives credit to for his basketball upbringing, installed a basketball hoop in their own driveway, which helped him improve his skills.
With continuous practice, his father eventually signed him up for his first organized team in the third grade.
"He [Stallion's father] was the one who put the basketball in my hand when I was little because he used to play [basketball] in college," Stallion said. "He's been the number-one supporter and fan of mine. Him always giving me positive reinforcement helped me to develop a good work ethic in life and basketball. So, because of that, I always gave my all, especially in basketball."
Stallion's skill level began to improve, as he was considered one of the best players in his area.
However, his parents' divorce drastically altered the stability in his life.
Until ninth grade, Stallion spent much of his time moving back and forth between his parents' custody, unable to grasp a stable environment in order to further develop his basketball skills.
As high school began, Stallion mainly focused on basketball, as he was able to work out and practice much more often; he also attended skill sessions during the summer that his high school coach at Benedictine High School, an all-male, Catholic school, organized for all students.
While attending the rival high school St. Vincent-St. Mary High School, which NBA star LeBron James attended in the past, Stallion grew to love the Miami Heat and especially James.
James even attended a few Benedictine High School basketball games, where Stallion was able to meet his idol.
The Benedictine High School basketball team was highly ranked in the nation and had many Division I collegiate prospects on the team.
Stallion received most of his offers from Division II programs, such as Tiffin University, Ashland University and Sienna Heights University.
Greg Gard, assistant head coach for the University of Wisconsin Badgers' basketball team, had become aware of Stallion's abilities, telling his brother Jeff Gard, the assistant coach at UW-Platteville at the time, that he was highly impressed with his skill set.
Jeff Gard contacted Stallion and his high school coach, and in the spring of 2009, Gard came to visit and tour UW-Platteville.
Impressed with the university's basketball team and athletic program, Stallion was convinced that UW-Platteville was the right university for him.
Between 2009 and 2013, Stallion played as a forward on the Pioneer basketball team with a career average of 8.4 points, 1.7 assists and 5.4 rebounds in 116 games played.
In May 2013, Stallion graduated with a bachelor's degree in business administration, and in the fall of 2013, he began graduate school, majoring in supply chain management.
Knowing that he was going to remain at UW-Platteville for graduate school, coach Gard offered Stallion the position of assistant coach for the basketball team.
Stallion eventually wanted to get involved with coaching, and he saw this as the perfect opportunity to gain some experience.
Former teammate and current junior guard Jim Stocki had the chance to not only play with Stallion but also learn from his coaching abilities.
"Rob [Stallion] was always a great leader and motivator as a player, and he carried those same attributes over to his coaching position," Stocki said. "He is also someone that the guys could talk and relate to because of his playing experience."
Chosen for his leadership and communication skills, Stallion enjoys the job, as well as the overall satisfaction of helping the team and seeing positive results.
Pioneer head coach Jeff Gard knows that Stallion has the experience and respect of the players, including a special place in the Pioneer basketball program.
"Rob [Stallion] has been very close with me since the first day he stepped on campus. He and I developed a close relationship, and I treat him like my son," Gard said. "I liked having him be a part of our program because, being a former student athlete of our program, he knows my expectations and what I look for in student-athletes on and off the court."
Overall, Stallion believed that UW-Platteville was a great choice because it is highly revered for its academics and athletics.
The next few steps in Stallion's career include finishing graduate school, obtaining a coaching position and finding a balance between work, coaching and life in general.