Carol, LTE of Hick & Main, retires after 14 years at UW-P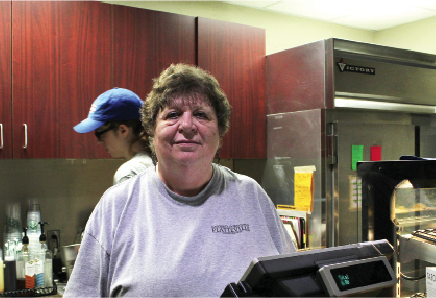 After working nearly 14 years at the University of Wisconsin-Platteville, 10 of which were at campus coffee shops, the Perk and Hickory & Main, Carol Huehne is retiring and can finally admit that she doesn't even like coffee.
Huehne's favorite part of the job was meeting new people and making new friends. Every year, Huehne looks forward to watching the graduation ceremony on her television and keeping an eye out for students she knows. Both alumni and current co-workers of Huehne have gone out of their way to show her their appreciation. Some have invited her to their weddings and baby showers.
"Sometimes I get thank you notes [from students] which really makes me feel special," Huehne said.
Sara Newquist, senior media studies major, worked alongside Huehne this semester. Newquist's first impression of Huehne is that she seemed very sweet and cares about the people she works with. After working more with her, Newquist is appreciative of the time when Huehne had helped her get through some family issues. Huehne shared her similar personal experiences and was able to give advice in Newquist's time of need.
"I think what I'll miss most about working with her is that there's never a dull moment," Newquist said. "It's clear that she really likes what she's doing and loves the people she works with."
Huehne said that she is typically a happy person and she always tries to have a smile on her face. She also said that it's important to always be friendly, even when the customer is not. Marissa Sayles, sophomore forensic investigation major, has worked with Huehne for two years. Sayles said she appreciates the work Huehne does because she always tries to do it correctly.
"There was one day Carol was too sick to come into work and so her shift was filled by other people," Sayles said. "When my co-worker, Sara [Newquist] and I got to work, everything was rearranged and not the usual way. It took us practically our whole shift to get things back to normal. We were thankful Carol was back to work the next day."
Although Huehne is retiring, she does not plan to slow down anytime soon. Her main goal is to spend even more time with her grandchildren. Family is very important to her, as she and her husband John will be celebrating their fifty-first wedding anniversary in the summer. Carol and John also want to travel with Washington D.C. and New York City on the top of their list. Along with traveling, Carol also plans to do more volunteer work with her church and the American Legion.
Despite her plans to stay busy, Huehne says leaving UW-Platteville will not be easy.
"I very much loved my job here," Huehne said. "It's been a great job and it's going to be hard to leave. I know I'm going to miss it."
Anyone who wants to say 'goodbye' to Carol can visit her anytime between 6:30 a.m. and 1 p.m. at Hickory & Main in Ullsvik Hall until her departure from the university Friday, May 15.