CPR brings Rock n' Roll to UW-Platteville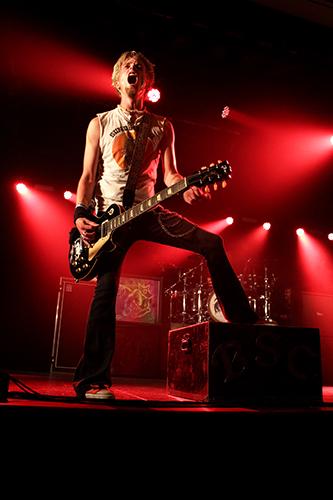 Despite budget cuts, Campus Programming and Relations was still able to bring in two well-established bands. Director of campus activities David Nevins said that the concert was a cost recovery event.
"Ticket sales covered the [cost of the] bands," Nevins said.
All other expenses were paid for by registration fees and local sponsors. The sponsors brought in approximately $6,000 and included the National Guard, Culver's, Jimmy Johns, Benvenuto's, Hartig Drug, Dairy Queen, Anytime Fitness, Dubuque Harley Davidson, Country Kitchen and Wisconsin Bank & Trust. CPR also had 12 student volunteers, which Nevins said he couldn't have done without.
The event was open to the community and presold approximately 1,150 tickets. Because of unpredictable weather, the venue was changed from outside the Pioneer Student Center to Velzy Commons in Ullsvik. Due to fire code, Nevins declared the event sold out when ticket sales reached 1,200. The venue change had other effects, both positive and negative.
"[Having] air conditioning is nice but shows outside are so much fun," Nevins said. "It gives [the show] an entirely different atmosphere."
The show opened with Thousand Foot Krutch, a rock band from Ontario, Canada. They were over by 9 P.M. and Black Stone Cherry went on at 9:30 P.M.
The crowd was nothing like the crowd Black Stone Cherry is used to. As a hard rock band from Southern Kentucky, they began their career playing in venues where people are drunk and fights could break out at any time. The Platteville crowd was more tame and did not respond quite as well.
Though she had been a long time fan of Black Stone Cherry, freshmen biology major Bailey Graf admitted that she favored Thousand Foot Krutch's performance.
"I liked when Thousand Foot Krutch's lead singer [Trevor McNevan] sang really high [falsetto]," Graf said. "I thought that was pretty cool."
Her favorite part of the night was a ten-minute drum solo performed by Black Stone Cherry's drummer, John Fred Young, who is the son of Richard Young, the singer and rhythm guitar player of the Grammy award-winning band Kentucky Headhunters. Sophomore Criminal Justice major Noah Laudolff also said that was his favorite part of the night. It was especially memorable for Laudolff as he was one of two people to catch Young's drumsticks.
Laudolff has been a fan of Thousand Foot Krutch for nearly five years and became a fan of Black Stone Cherry after learning they'd be playing on campus.
Despite the venue change and Black Stone Cherry's delay, the night was a success, both financially and recreationally.
"I took off work for the concert and have to be up [for his second job] in four hours but it was worth it," Laudolff said.