Edible garden ready, available for campus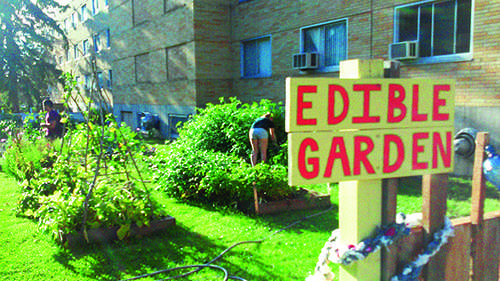 The Green Campus Project's foundation revolves around the link between human activities and environmental impact. The Edible Garden located between Royce and McGregor Hall is an example of that foundation.
With help from the University's Office of Sustainability and Segregated University Fee Allocation Commission, the garden is in full bloom and students are taking notice.
McGregor Hall Residence Director Ian Dregor said he noticed how much interest his residents have given the garden.
"I would say that the students are definitely looking at it and are very inquisitive," Dregor said. "I have encouraged them to go and check it out."
According to Amy Seeboth-Wilson, the university's Sustainability Coordinator and adviser to Green Campus Project, one of the goals of the garden is to help teach students how to grow and sustain that type of vegetation.
"We also hope to eventually come into the residence halls and teach students how to do indoor gardening or provide cooking lessons or composting," Seeboth-Wilson said.
Seeboth-Wilson said due to the project's success over the last several months, they have begun selling to the local farmer's market.
Over the summer Emma Cleveland, sustainable and renewable energy systems and political science major, and Nicole Graetz, elementary education major, were employed by the GCP and were paid hourly by the funds provided from SUFAC.
Seeboth-Wilson said that one of the challenges the program faces every year is the learning curve the employees encounter as they often come in with little to no gardening experience.
While the garden is meant for the general student population to look through and pick from, Seeboth-Wilson said that she would like to see the students check in with the managers before they take anything.
"We want people to take the food but we want to know how much is being taken, just so we know and can keep track of it," Seeboth-Wilson said.
The project appears to be a success in terms of the GCP's mission of linking human activity and environmental impact, but Sebooth-Wilson as well as Dregor said they would like to see expansion over the next several years.