UW-Platteville hosts world's first collegiate parkour competition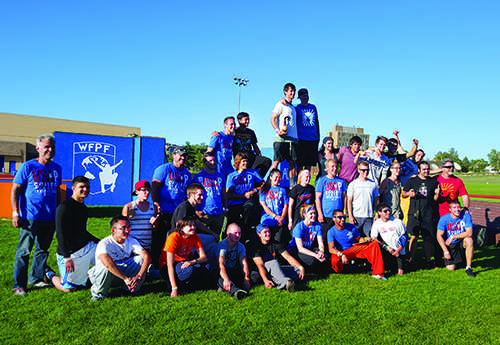 The motto of parkour, "To be and endure," is fitting, given that five years ago, parkour was banned on the University of Wisconsin-Platteville after the freerunners damaged too many trees. This year, David Thompson, co-founder of USA Parkour and World Freerunning and Parkour Federation (WFPF) thanks the UW-Platteville administration for hosting the first collegiate parkour competition in the world.
"We want people to be more accepting of it [parkour]," Conner Hjellming, junior criminal justice major, said. "We are athletes just like football and soccer players. We work hard and train just like any other athletes."
Thompson credits Hjellming for making the event happen. Hjellming went through an extensive process for UW-Platteville to host the invitational. He first had to get the parkour club recognized as an organization on campus. In order to do so, the club members needed to obtain insurance and have an instructor from California certify eight of their athletes. Hjellming, UW-Parkour team president, and Asa Krueger, sixth year senior mechanical engineering major and vice president, have held their positions since the club became an organization in 2014.
The next step towards hosting the invitation was convincing Thompson and Victor Bevine, co-founders of WFPF and USA Parkour, to sanction the event. After multiple interviews Hjellming proved that UW-Platteville would be the ideal university to host the world's first collegiate parkour invitational.
"[Hjellming] was a monster, he never let up," Thompson said. "Always respectful though. He was going to make this happen."
Thompson and Bevine co-founded WFPF and USA Parkour in 2007 and were two of the producers and creators of MTV's Ultimate Parkour Challenge. The show featured many professional freerunners and stuntmen as both contestants and judges. Professional freerunner Robbie Corbett, who was a judge on Ultimate Parkour Challenge, flew in from Los Angeles to judge UW-Platteville's invitational. Along with Corbett, professionals such as Fernando Arce, Paul Whitecotton and Aleksandr Baiturin judged the invitational.
The UW-Platteville invitational followed a similar judging system to professional competitions. It consisted of three rounds: speed, jam and challenge. Corbett said the speed round is the most parkour-like as the athletes have to get from point A to point B as fast as possible. The jam, or freestyle round, gives the athletes 45 seconds to show off whatever they wanted, all while being scored on creativity, difficulty, execution and flow. The scores of the first two rounds are combined and the twelve athletes with the highest scores proceed on to the challenge round.
The challenge round is similar to the game of H.O.R.S.E., as the athletes get points for completing the move that the competitor before them did. Corbett said that the challenge round is his favorite as it puts people in their element and allows competitors to beat each other at their own game.
"You don't challenge Tiger Woods to tennis," Corbett said. "You beat people when they're in their element and then you can call yourself the best."
Despite the competitive nature, the athletes displayed excellent sportsmanship. During the challenge round, they helped each other out by showing them how to do the moves while everyone else cheered them on.
Carly Foor, sophomore criminal justice and political science major, was the only female to advance to the challenge round. Foor said that making it the final round is one of her biggest accomplishments since joining the organization a year ago.
"I think it [the competition] went really well," Foor said. "I think everyone surprised themselves, I know I surprised myself."
Along with Foor, Hjellming and Krueger also advanced to the final 12. The final scores were close but senior Zach Kekac, from the University of Connecticut, finished in first place and Hjellming in second. There was a two-way tie between Wabounsee Community college freshman Pasha Klopov and Scott Community College junior Larry Le for third place. Klopov and Le had to compete in a three trick challenge and Klopov pulled ahead, coming in third place.
Hjellming and Foor both highly recommend that anyone who is interested should try parkour, regardless of skill level. Bevine advises that anyone who wants to join should find a good teacher or group to learn from and to train safely.
"You learn just as much as an expert as you do as a beginner," Bevine said.
For more information about the sport visit wfpf.com or usaparkour.org. The UW-Platteville Parkour team meets Tuesday and Thursday from 6-7 p.m. in Studio 2 in the Pioneer Athletic Center.