'Women on a place' takes title at variety show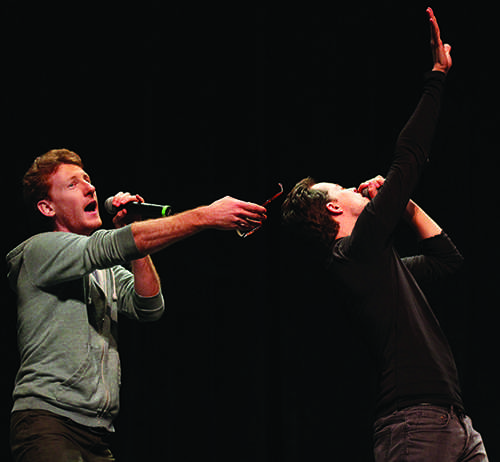 "Adventure is out there…" was not only the theme of this year's homecoming but was also a very popular phrase the night of Oct. 8. The variety show this year was held at 7:00 pm at the Center for the Arts. The event was hosted by singing and beat boxing duo Paul Peglar and Ben McLain, also known as Dakaboom.
The show began with the duo singing Journey's "Don't Stop Believin'" but then abruptly stopped and said they were just kidding. What followed were mash-ups of songs featuring hits like "Friend Like Me" from Aladdin as well as 35 TV theme songs in 3 minutes. They also had a song about most frequently asked questions, which included topics like where they are from and their relationship status.
After a lot of laughs, the duo introduced the first group, Fusion X. The dance group danced to a mash-up of hip-hop and contemporary songs by T-Pain, Ne-Yo, Flo-Rida and Tori Kelly. The routine was fast-paced and ended with the dancers taking off their sweatshirts to reveal the back of their t-shirts spelling out "Fusion X."
The second group was Pickard Hall residents, who performed a comedy act. Two male residents took the stage, one with a bandana in hand. The performer with the bandana in hand started to explain to his friend how to fold the fabric in different ways. The problem was that his friend had a banana and not a bandana. At the end of the act the performer with the banana in hand threw it at his friend out of frustration for not clarifying what he was doing.
The third act was WAM, Wilgus and Melcher, who performed a Harry Potter skit. The skit showed Harry, Ron and Hermione getting ready to go to "UW-Platteville's School of Wizardry". They discussed their wishes for the school year while Ron's mother sent them off.
The fourth act was performed by sorority Kappa Alpha Sigma. Their skit was about women on a plane. The flight attendant would announce each passenger and where they were going. The passengers would then show what they do at each stop.
"We knew we wanted it to stay pretty simple, so that's why we only had one person speaking. As a group we practiced a few times, but we really focused on making the skit a cohesive piece," Bailey Shepp, Kappa Alpha Sigma member, said. "I have a pretty easy time memorizing and getting familiar with lines, so I wasn't too worried about the speaking part".
The fifth act was fraternity Sigma Tau Gamma. They had a skit that was inspired by the movie Jumanji. Two members of the fraternity were heading to the football game when they stumbled upon Jumanji board game pieces and decided to play. Every time they rolled, other members of the fraternity would come out and do a choreographed dance to songs such as "Watch Me (Whip/Nae Nae)" and "Who Let The Dogs Out."
The next act was performed by Brockert Hall residents who did a Jurassic Park inspired skit. The two main characters from the film were hiding from a dangerous dinosaur, which led them to call Dinosaur Pete to save the day. The two dinosaurs went head to head in battle, Pete came out victorious. They celebrated their victory by all joining in a choreographed dance.
Morrow Hall's skit was short but took everyone by surprise. A male from the hall proposed to one of the females in the front row. After the hall filled with screams and applause he then said that he was just joking.
The next act was WSUP. For their skit, they had two members of the radio station broadcast the current news on Star Wars, their theme for homecoming.
Up next was Hugunin Hall. For their skit, the hall's dog, Adventure, decided to leave to go see more of the world. In the dog's journey he met characters like Tinker Bell, Darth Vader and Katniss from the Hunger Games.
Rountree Commons had a skit inspired by the book series Magic Treehouse. In the act, Jack and Annie learned about the history of Platteville as they went back in time and talked to students and some of the first miners.
After that, Dobson Hall had a Spongebob Squarepants themed skit. All the characters from the TV show, along with a UW-Platteville student went on an adventure to get back to Platteville just in time for the football game.
Second to last were McGregor and Cooper Living and Learning Center. In their skit, two residents told shark themed jokes to each other while sitting in a homemade cardboard boat.
The last act was Sigma Phi Epsilon. Their skit centered on a retirement home for retired adventurers such as Jack Sparrow, Harrison Ford, Batman and Captain America. In their act, Harry Potter encouraged the others at the retirement home to look for more adventure and at the end decided to go participate in the variety show all together as a group.
For the results of the variety show, there was not one clear winner. Participating groups needed to earn 30 points in order to get first place. Residence halls Brockert Hall and Bridgeway Commons tied for first place, WSUP won for organizations and Kappa Alpha Sigma won for Greek.
"Our sorority was very excited that we won," Schepp said. "There were so many great skits that we just felt blessed to be able to participate and enjoy the week. This was my final homecoming as an undergrad, so I was excited to participate with my sorority sisters."