Cow for Christmas in DR Congo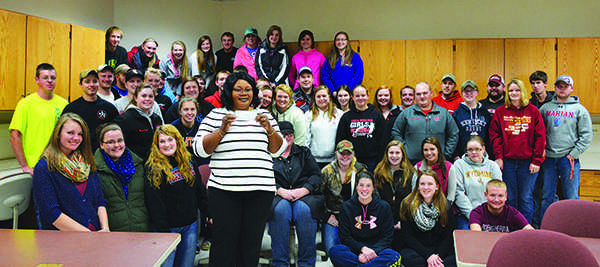 Thirty Congolese women will receive a cow this year for Christmas, thanks to the fundraising efforts of the UWPlatteville Pioneer Dairy Club. The women are employed on a farm in the Democratic Republic of the Congo, which is owned by a UW-Platteville professor.
Agriculture Professor Annie Kinwa-Muzinga owns the Kivuvu ("Hope," in the Kikongo language) farm in DR Congo. She purchased the 200-acre farm to help widowed Congolese women make a livelihood and provide for their families. Kinwa-Muzinga's ultimate goal is to improve the lives of the 30 Congolese women who farm 10 out of the 200 acres each growing season.
"I think it is hard for me to forget where I am from," Kinwa-Muzinga said. "It's okay to be successful here but when I look at the news and see kids starving, it hits [me] in the stomach."
Kinwa-Muzinga initially shared the idea with a friend named Kevin Dickinsen. After Dickinsen's death in January 2015, Kinwa-Muzinga wanted to continue the project but knew that she would need to enlist help. She identified a list of needs for the women, including a cow, and sent out a fundraising letter. The purchase of a cow would provide the women with milk to drink, as well as allow them to learn how to produce and sell cheese.
Kinwa-Muzinga talked with Tera Montgomery, Pioneer Dairy Club adviser, and together they created a plan to raise money for the cow at the club's annual Pioneer Dairy Classic.
Montgomery and the dairy club posted an advertisement in the Oct. 24 issue of the Dairy Classic catalog explaining their goal to raise money for both a cow and storage shed. Montgomery learned from Kinwa-Muzinga that Kivuvu farm doesn't have a large enough storage shed, and as a result much of the corn harvested last year was lost. In order to purchase both items, the club needed to raise $2,000.
"After all the proceeds were collected and added together, we raised $1,600," Montgomery said. The club made up the difference and the money will go towards both the cow and the shed.
"I liked having my students see how important it is to give back," Montgomery said. She also said that this effort helped her students see how they can work here in Platteville to help people across the globe.