Faculty show off creative side in Nohr Gallery exhibit
Bernie Sanders, Donald Trump and Hillary Clinton were only three of the Presidential Candidates who were on campus on March 9.
For two hours, their portraits were hung on the walls of the Nohr Gallery, as part of the University of Wisconsin-Platteville's annual Faculty Art Exhibit.
Upon entering, two large canvas paintings at the back of the gallery stood out. Both showed a different nature scene; the focus of one was a minnow and the other emphasized a sassafras plant and more notable a clam. They were both painted by distinguished lecturer Richard Moninski.
"I grew up in Massachusetts, and I've always loved the outdoors," Moninski said. "I wanted to show the history of where I grew up by using the Native American names for the names of my paintings."
The title of the second painting, Nauset, refers to the Native Americans living in Cape Cod during European Colonization. Moninski said the two paintings; Mummichog and Nauset took him a few weeks to complete.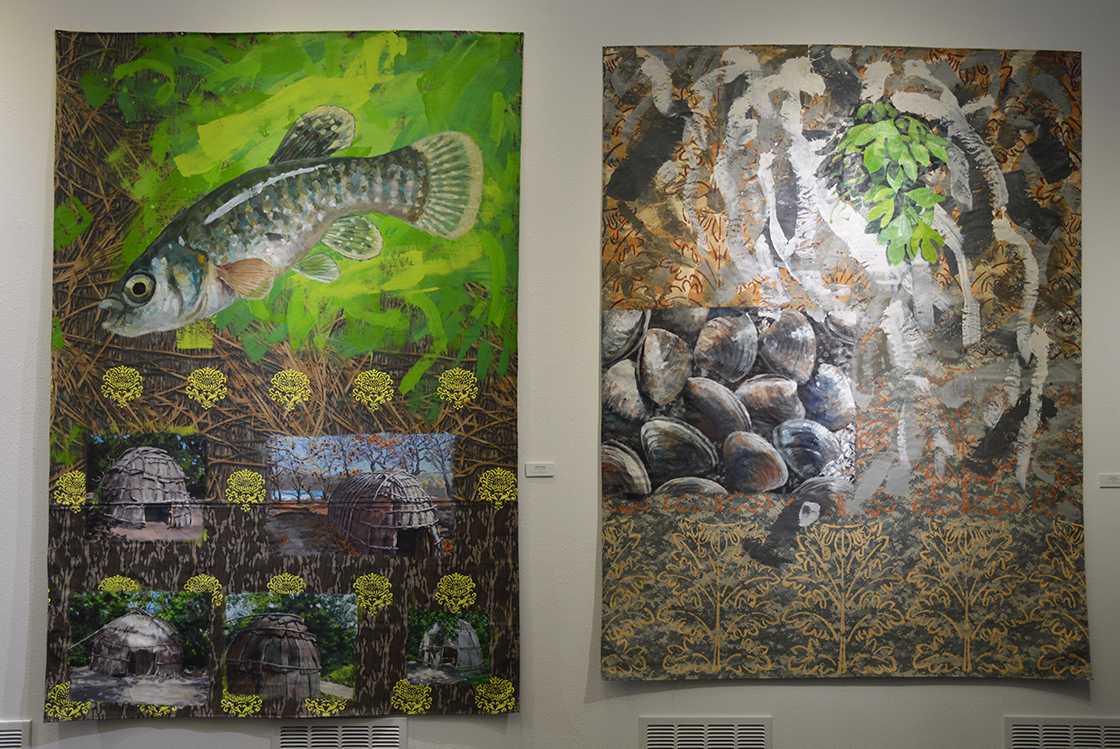 Mohammad Tazin
Senior graphic design major Jennifer Castro said that art professor Steve Vance's oil paintings were her favorite display in the exhibit.
"Steve's personality really shows in his work," Castro said. "It's amazing to see their love for art and their passion."
The exhibit also featured work from several other members of the art department staff, including the presidential portraits. The portraits were drawn by assistant professor of art Greg T. Nelson.
"I was inspired by the insanity of our political process," Nelson said. Noticeable in each candidate's portrait were the wrinkles around their eyes. "Those show how tiring this process is and also that it ages them, and it ages us as a society," Nelson said.
Also on display were nine ceramic platters, created by lecturer Bruce Howdle. Each of the platters featured a different animal design, including a muskellunge and two brook trout. Howdle said his inspiration was to create a functional piece. Any of the nine platters that were on display can be used to cook food.
Something that all of the artists agreed on was that creating these works of art holds the professors accountable.
"[This exhibition] acknowledges the personal work of the professors," senior Lecturer Carole Spelic said.
Spelic had some of her recent works on display as well. She chose to showcase a number of hand woven wool and hand knotted nylon squares on cotton warp. Each of the squares were made of three different colored fabrics. Spelic said the inspiration for them was two-fold; first, to see if the different colors would move toward or recede from the viewer, and second, the squares served as a tribute to Josef Albers, best known for his "Homage to the Square".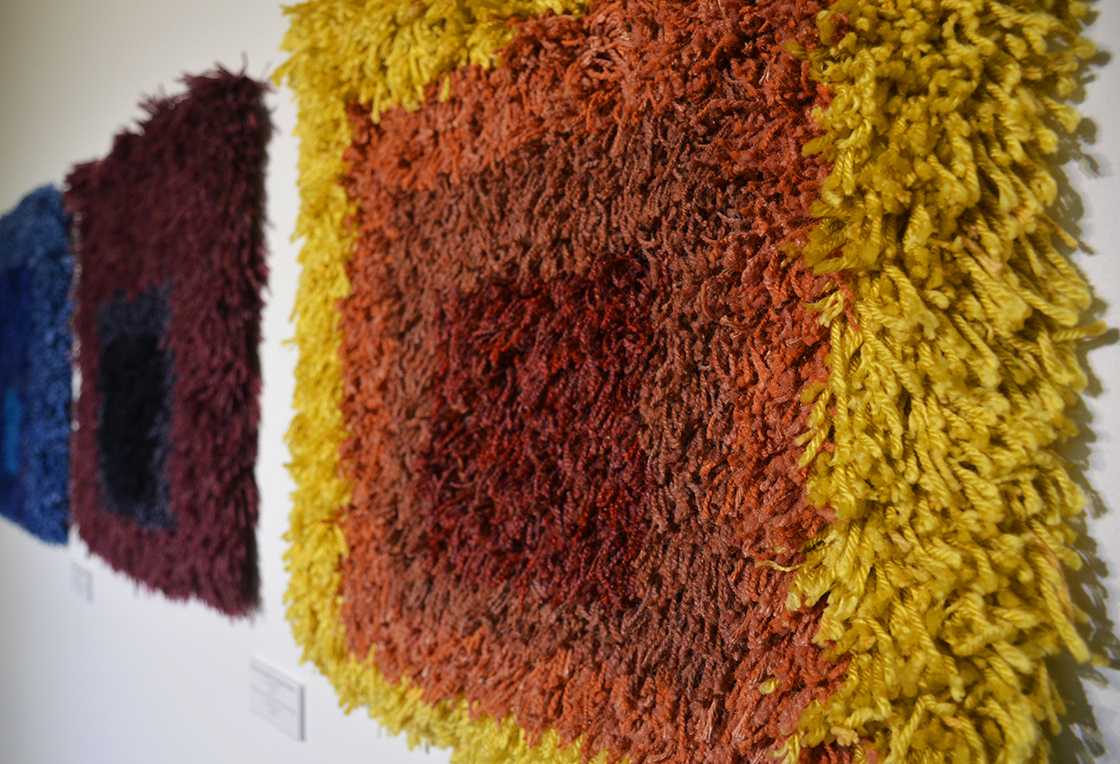 Mohammad Tazin
One of the smallest exhibits showed two works of art, Gypsy and Ginger Heart. They were both made by lecturer Diane Sterba. Ginger Heart is what Sterba called a found object piece.
"Ginger is often used as a spice and has healing properties, so I added a heart to it, thinking about healing one's heart," Sterba said.
Gypsy is what she calls a "power doll." Sterba had used the dolls as part of her Women's Retreats, which she had previously held in Mineral Point for 10 years. The idea behind the dolls was for the women to reclaim their power. Each doll has a message of personal intent located near its heart. Each participant would then wind yarn around the shape of the figure, binding in their intent to be stronger, to regain their power, to be compassionate, or any other positive goal.
"It's not about the final product, it's about the process," Sterba said.