Arvin Mitchell brings laughter to UW-Platteville
Mitchell is the first comedian of the year to perform on campus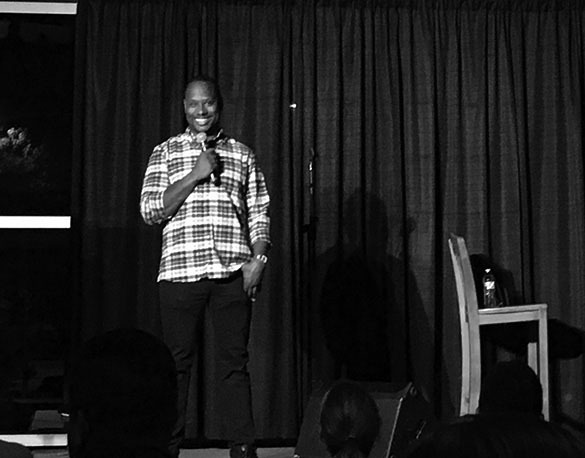 The first week of classes usually brings stress and anxiety to students, but this past weekend those emotions were washed away with laughter.
On September 10, Campus Programming and Relations (CPR) hosted the first Stand-up Saturday of the school year in the Markee Pioneer Student Center. This year's opening act was comedian Arvin Mitchell. CPR was able to book Mitchell at the National Association for Campus Activities, event producer Justin Toney said.
Mitchell did not think he was going to be a comedian early in his life, but his family and coworkers helped him consider comedy as a career.
"I didn't want to do it as a job, but my sisters kept telling me I was funny and people at work kept telling me I was funny, so when the people at work kept telling me I was funny I thought I would give it a shot," Mitchell said. "I've always loved comedy, but I didn't know I could do it as a job, but once I got on stage and I realized I was good at it."
Mitchell started the show by referring to the University of Wisconsin-Platteville campus cemetery and to the city itself. He then informed the crowd that anything he said was "from his heart," and that sometimes the jokes he tells seem more for him than for the crowd. Mitchell's favorite part about comedy is being able to articulate anything that pops into his head and knowing that people will get it.
"It doesn't seem like work sometimes; it's like I get payed to have fun. I have talked to people who are going through depression after my shows. One lady was actually contemplating suicide, and she told me after my show that I really made her reconsider her life and that really made me feel like I had something," Mitchell said. "I mean, I already knew that I had something to make people laugh—that made them feel good, but when she told me that I sat in my car for quite a while and just kinda reflected on what she said and realized there is more to the jokes than simply making people laugh, its actually healthy."
As the show continued, Mitchell delved into a variety of different topics, which produced considerable laughter throughout the large UW-Platteville crowd. Jokes about annoying people at airports and bus stops seemed to get the best response. Also, jokes involving farts and smelling fear also were a hit. Mitchell performed by feeling out the crowd to get their reactions about topics before getting into his material, which seemed to make the audience happy.
"I enjoyed the fact that he didn't make [the show] political," senior biology major Katie Schulteis said.
Throughout the show, Mitchell worked in material about Platteville students and workers who were there. The show ended with Mitchell asking for a ride to Madison because he lost his wallet. Upon his arrival, a Platteville student gave him a ride to his hotel. Many students would have been more than happy to give him a ride, including attendee junior criminal justice major Colin Tetkoski. Tetkoski said he would have given him a ride just for the humorous conversation.
Even though Mitchell has been on television, specifically the Black Entertainment Television Awards, and has had the opportunity to meet artists such as Beyoncé and Angela Basset, he still loves performing in front of a college and accomplishing his comedy goals.
"As I evolve, as a man and as a comic, of course the goal is always to make people laugh, but I really want people to leave with an experience and I don't want to just go on stage and do the time," Mitchell said.