Music 'brings down the Haus'
Campus Programing Relations introduces new music series starting with Lacey Caroline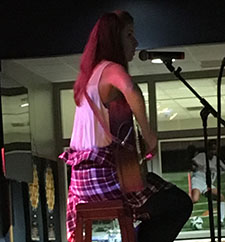 Sounds of country music flooded the Pioneer Haus on Sept. 16, but not from a stereo. Thursday marked Campus Programming and Relations kick off to their new program featuring live music titled The Haus of Music.
The Haus of Music features a different artist each month, all of whom will be performing in the restaurant located in the Markee Pioneer Student Center. This month's artist was Lacey Caroline. She performed with just her boisterous voice and acoustic guitar in front of a small crowd of students.
Caroline is a country artist originating from New Jersey, but currently lives in Nashville. She said during her performance that she moved to Nashville in order to pursue a music career. According to her Facebook page, after a year and a half of living in Nashville, she released her first single "Girl Like You." However, she opened the show with the song "I ain't that girl," which seemed to get the loudest reaction from the audience.
Caroline's Facebook page also explained how she began writing songs at the age of 14, and her goal in life has been to share stories with others. It was clear to see that she enjoys telling stories because between each song she would tell the audience something personal about herself to make the performance more relatable.
"The last song, 'Mason Jar' made a lot more sense because of the touching backstory she gave about a man she met in a bar," Halley Planinsheck senior, biology major said.
Another story Caroline told was about her own college experience which really resonated with student audience as well. She said that "when you leave college to pursue your dreams it is never easy at first."
Even though the crowd was small, Caroline thanked those that were there after each song and seemed to embrace her audience along with enjoying her time on stage.
If you missed out on this month's performance of The Haus of Music, there are more artists yet to come. Check out the CPR website for more information about the next performance.