Students enjoy first ever 'Paint & Punch'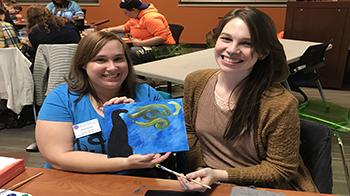 Student's creativity ran wild during the first ever Paint and Punch. The University of Wisconsin-Platteville's Wilgus hall hosted the first ever Paint and Punch as part of the weekly Friday Night Club inside Bridgeway Commons.
"We wanted to do something creative. [A Wilgus staff member] mentioned Paint and Punch and we thought it was a great idea," Jasicki said.
According to one of the event's organizers, senior biochemistry and biology major Mallory Jasicki, Wilgus originally planned a trivia night but since Campus Programming and Relations planned a trivia night the week before for Family Weekend, they decided to go another route.
"[There were similar events to Paint and Punch] in different cities. We thought we would bring it to campus to give students a creative outlet." Senior business administration and industrial technology major Jocelyn Key said. "Each [staff member who was in charge of the event] brought [a paint template] that matched their personalities."
The three templates that the student could have chosen from were a template of a dog, a tree at night and a bohemian style artwork. Although students could have chosen to follow one of the three paint templates, they weren't required to do so.
In preparation for the event, Wilgus bought 28 bottles of sparkling cider and went on Amazon to buy the paint supplies. The entire event was funded by the Residence Halls Association and Residence Life Funding Committee.
Wilgus estimated that approximately 80 students would show up for the event but were flabbergasted when approximately 120 students attended the event.
"[I attended the event because] I really like to paint and I am a resident at Wilgus hall and it was a great way to show my support." Sophomore forensic investigation Morgan Abraham said.
Overall, the event seemed to be a hit. All those who attended had a good time painting and drinking sparkling cider.