Haus of Music returns
CPR presents the first Haus of Music of Spring 2017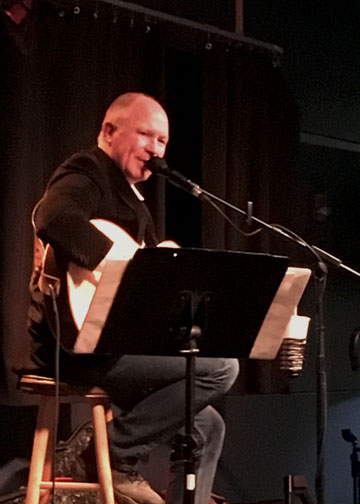 With the start of the new semester comes the return of the Haus of Music series held by Campus Programming and Relations. On Thursday, Feb. 2 CPR held the first installment of the spring semester featuring artist Ralph Kluseman.
Ralph Kluseman is a cover artist that performs a variety of songs from multiple music legends. Most notably from the Beatles, America, John Lennon, Paul McCartney and Neil Young. Even with the younger college crowd, it seemed as though Kluseman made an impression on those that attended his performance.
"I thought his performance had a really unique twist on some popular older songs and he definitely had stage presence," junior biology major Nicole Bailey said.
The attendance for the event as a whole was somewhat small, but those that did attend appreciated the stories that Kluseman told to go along with the songs that he performed.
"I thought that he was extremely talented. When he played you could tell he had an emotional connection to the songs," junior biology major Allegra Young said.
With the emotional connection Kluseman had to his songs, it was surprising to learn that he is not a full-time musician. Kluseman is a business counselor from Iowa, however, the world of music seems to be something that he is dedicated to. According to his Facebook page, Kluseman is the co-director of the Rock and Roll Music Showcase as well as a director of the Iowa Rock 'n Roll Music Association, otherwise known as the Iowa Rock 'n Roll Hall of Fame.
It is clear to see that Kluseman's passion for music is strong and that he loves performing. Even though his performance at the Haus of Music did not have many people in attendance, the people that did attend enjoyed listening to the classics from a performer that loved what he was doing.