The Initial First returns to the Haus of Music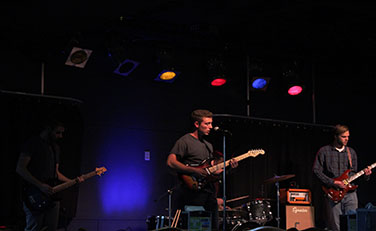 On May 3, University of Wisconsin-Platteville student band, The Initial First, performed at the Haus of Music. The event was hosted by Campus Programming and Relations.
The band was formed not too long ago but already has a number of different members.
"Well, the band formed in the fall of 2015, but the band right now only has two of those members still in it [Dayton and myself]," junior business administration major and lead singer Austin Wiese said in an email interview. "Dayton and I met through a guy who was in the band initially, then we met Garrett at Pioneers Got Talent last year and he started playing with us at the end of last school year. Then our old bass player Bret graduated this past December and that is when we were introduced to Ben who has been playing with us since January."
Senior building construction management major and drummer Dayton Wellner was confident in the band's ability to put on a great show.
"We all knew that we had enough talent to start up a great band and we wanted to bring live music to Platteville," Wellner said.
The band's set was a mix of originals and covers. They started with an original song with a laid back rock feel and followed it up with some covers including Red Hot Chili Peppers' "Dani California" and the classic "Johnny B Goode" by Chuck Berry.
With the variety of musical selections, it was easy to determine that the band's musical influences come from several different decades.
"I would say we have a wide spread of influences in a lot of genres," Wiese said. "I would say for the songs we have written, some influences for me have been people like Gary Clark Jr; Highly Suspect; Portugal, The Man; Jack White and Stevie Ray Vaughan. I'd say our band has a real appreciation for Stevie Ray Vaughan."
When it came to creating a set list, the band had a lot of material to go off of. Whether it be their originals or some of their favorite artists that they wanted to cover.
"We had a time limit of an hour and a half, and we have enough music to play over three hours really, so it was getting down to really playing the songs that wouldn't be too overly loud or stuff that was a little too slow, " Wiese said. "We really wanted to make sure we played all of the original songs we are playing and then just some of our favorites we always like playing."
The set included songs from Foo Fighters, the Black Keys and Johnny Cash. The band was prepared for a whole range of different rock music fans.
"We base our set list on the audience we are playing for," Wellner said. "We have songs to accommodate all age groups."
"[I liked] 'No One Know' by the Queens and the Stoneage," education major Kelty Balcerzak said.
The band currently has a demo on their Sound Cloud which you can find under 'The Initial First.' They hope to record more demos in the future.
"We will be playing most likely the Friday and Saturday of graduation, just keep a look out on our Facebook events and come see a show," Wiese said. "I promise you won't be disappointed. We put on a frickin' fun show and we bring a lot of energy, you won't want to miss it. We plan on playing some shows in Madison and probably in the Sheboygan/Milwaukee area this summer. I would really love for us to get a real EP recorded this summer and play some real shows out of town. That's what I hope we are doing in four months."