University provides sexual health education
KISS brings together different organizations with the same goal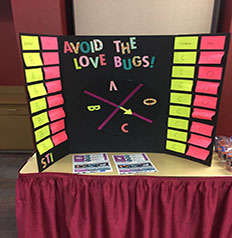 KISS: Keeping it Safe Sex was held in the Markee Pioneer Student Center on Oct. 3 in Platteville Rooms East and West. The event was an informational fair about sex, relationships, sexual health and overall wellness. Multiple tables were set up pertaining to different topics. At one table there was a game about overall sexual health. One question was, "can a woman in a relationship with another woman still get a sexually-transmitted infection?" The correct answer was true. Just like in a heterosexual relationship, you are just as likely to get a STI if you are in a relationship with those of the same gender as you.
Another organization included the Sexual Violence Victim's Advocate on behalf of Family Advocates. Paula Schoenberg leads this organization and is available twice a week for appointments, Mondays from 12 p.m. to 4 p.m. and on Thursdays from 8 a.m. to 12 p.m. The organization also has a support group on Mondays from 4 p.m. to 5 p.m. Services are free and confidential. Appointments can be made by emailing [email protected] or calling 608-778-9802.
Student Health Services had their own table where they urged everyone who is sexually active to get tested at least once a year. You can even get tested on campus by appointment by calling 608-342-1891. University Counseling Services also had a table that talked about how to have healthy relationships, as well as offered couples therapy to those who need it.
Sabrina Mers from Student Life and Development was also at the fair with a variety of information about sexual assault, harassment, stalking, domestic violence and consent.
"I've been doing health education for eight years," Mers said. "I just started here in August. At my previous institution, I was a peer educator for five years. Then I was working in their health education office promoting sexual health and consent as well as bystander intervention and alcohol safety.  I've been involved in it for a long time so that's why I applied for this position."
At her station, Mers created a game surrounding the topic of consent which stemmed from a workshop she had put together.
"A couple years ago, I created a consent workshop so one of the things we noticed was that a lot of students understand what consent is, but they don't understand how to ask for consent or how to give consent, or how to say no. So, I created a whole workshop and one of the things we do in the workshop is we use all of these examples that are not related to sexual encounters to help people see how they can practice it in other ways."
Doyle Center coordinator Emily Stier thought by bringing all of these different organizations together that relate to each other, the impact would be bigger.
"My thought was to combine the different resources we have on campus that promote sexual health and wellness and all the different aspects of that," Stier said. "Whether it's relationships or more of like the body and health piece of it or gender and sexuality dynamics. It's important to come together to provide students with information and free access to different things like contraceptive barriers and make it almost like a resource fair with the main topic of sexual health and wellness."