Study abroad: Jessie Thompson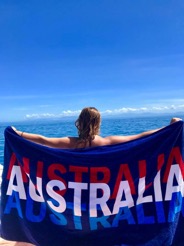 When I was in Australia, seven of my friends and I took a trip to Cairns and it ended up being the craziest trip of my life. We stayed at a hostel called Gilligan's and it turned out to be one of the biggest party hostels in Cairns. My friends and I booked waterfall tours and Great Barrier Reef tours right when we arrived. We road on a boat for about 2 hours then we arrived at the reef. My friend and I actually started crying because we couldn't believe we were actually going to snorkel and dive the Great Barrier Reef. When we got into the water we were all speechless.
There were so many fish, starfish, jellyfish, different coral and even sea turtles. I think I ended up following a sea turtle around for about an hour. The next day we went on a waterfall tour that took us all over Cairns. We saw some of the most beautiful waterfalls I have ever seen. We even got to slide down some of the waterfalls. We also saw spiders as big as your face and for some reason our tour guide got us all to lick ant butts because he said they were high in vitamin C and they tasted like sour patch kids. I still think he just wanted to see us lick the ant butts for fun because they didn't taste like sour patch kids at all. The next couple of days we went around different beaches in Cairns. But all in all. It was the best trip of my life.
Jessie studied in Newcastle, Australia in spring 2017. If your interested in a studying abroad like Jessie, contact the Education Abroad office by emailing [email protected] or calling (608)342-1726.