Students cook with locally grown produce
Green Campus Project harvests from edible garden to create healthy dinner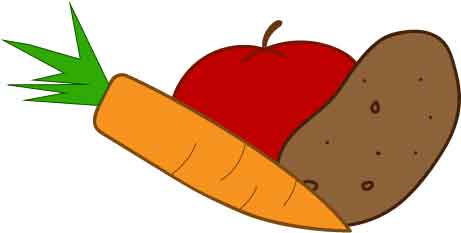 Did you know that UWP had an edible garden on campus? If you did not, now you know! It is located between Royce Hall and McGregor Hall. It is run by Green Campus Project. GCP focuses on making the campus more environmentally-friendly. They staff the campus compost program, run the edible garden/landscape beds across campus and provide a host of educational events including the annual earth day carnival. Another thing that GCP does is host The Dinner in the Garden.
"We wanted to invite folks to experience the edible garden: get their hands dirty harvesting food and taste the deliciousness of fresh food cooked over an open fire.  We wanted the event to be fun, as environmentalism should be," advisor of the Green Campus Project Amy Seeboth-Wilson said.
To create the dinners, they used about 98 percent of the garden in their food. They made tin foil packs of fresh produce picked straight from the garden (including potatoes, carrots, peppers, corn, etc.) and optionally added some butter, cream of mushroom soup and/or spices before cooking it. Everybody chipped in to create their dinners. Some people harvested, others scrubbed the veggies clean while others chopped them.  Everyone made their own tinfoil packs and then cooked them over the fire provided by Ryan Henning with the Outdoor Recreation Program. 
After the dinner was over, all the leftovers would be put into the compost pile. Compost is any organic matter that can decay and breakdown, which will be turned into soil under the right conditions. On campus GCP compost most of the pre-consumer food waste from Dining Services, as well as post-consumer waste in Bridgeway, and have optional compost bins in several academic buildings. These are marked in green bins usually with white lid and are outside of every residence hall. GCP helps move the compost from these various locations across campus twice per week to the central compost dumpsters. These dumpsters are picked up by Sanimax and taken to a facility in Dane County.
There are many things that can be composted which are used and eaten on a daily basis and can be potentially used to help in the garden. Here are a few items that can be put into the compost: 
-Fruit and vegetable scraps
-Egg shells (crushed)
-Coffee grounds
-Used paper napkins and towels
-Unwaxed cardboard pizza boxes
-Wine Corks
-Peanut Shells
-Pencil Shavings
-Melted Ice Cream
-Cupcake/ Muffin Wrappers
-Cooked Pasta
-Cooked Rice
-Stale Crackers
-Pizza Crusts
-Sticky Notes (Shredded)