Campus Read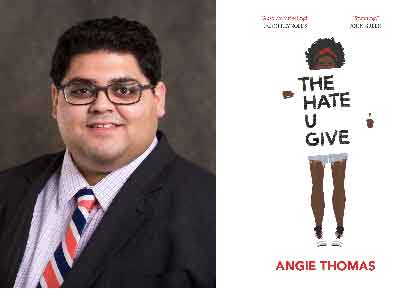 Campus Climate looks to involve the University of Wisconsin-Platteville through a campus-wide book club this semester. The chosen novel is The Hate U Give by Angie Thomas; Campus Climate held a kickoff event on Tuesday, Oct. 2, where students, faculty and staff were invited to pick up a copy of the text along with additional reading materials. Members of UW-Platteville are welcome to a free copy of the novel by visiting www.uwplatt.edu/diversity/campus-climate-book-club-2018. Campus Climate has given out 150 copies so far.
"The novel is the first fiction selection that we have had over the past three years. Our hope is that this will be an empathy-building text," advisor in the Office of Multicultural Student Affairs T.J. Aiyash said. "No one can fully understand what a person is going through or how another person's experiences affect them, but we use the Campus Climate Book Club as an opportunity to build our ability to empathize with others."
In the novel, the narrator is Starr, a young black girl who witnesses the murder of her childhood friend, Khalil, who is killed by a white police officer. The novel portrays how Starr and her community respond to his death. It has been adapted into a film that was released on Oct. 5, but will arrive to theaters in Southwest Wisconsin by Oct. 19. This novel was selected for the book club to encourage students, faculty and staff to come together to discuss the thought-provoking content as a community. 
For those interested in participating in any of the discussion sessions, the October dates can be found at www.uwplatt.edu/event/campus-climate-book-club-kick-event. These events will be led by Aiyash and participants are encouraged to use these discussions as an extra resource to learn about the text. Participants can come to one session or all and the discussions will revolve around the sections of the novel that the participants are all familiar with. 
At the kickoff event, Campus Climate publicized the upcoming Literary Festival to be held on Oct. 29 by the Department of Humanities. The festival will also be about The Hate U Give and other related topics concerning violence, community and voice.
For more information about the Campus Climate Book Club, contact T.J. Aiyash at [email protected].