Artist of the Week: Glass Animals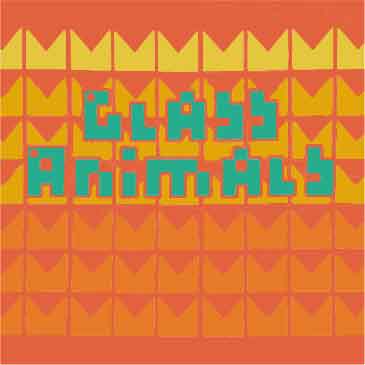 Glass Animals is a band based out of the United Kingdom. They're composed of frontman Dave Bayley, drummer Joe Seaward, bass/keyboardist Ed Irwin-Singer and guitar/keyboardist Drew MacFarlane. The band formed and produced their first extended play (EP) "Leaflings," in 2012.
In 2013 the band released their second EP, "Black Mambo/Exxus," which contained their first major hit, "Black Mambo." Later that year they released their self-titled EP, which included a collaboration with hip-hop singer Jean Deaux.
Throughout 2014, Glass Animals released three new singles: "Pools," "Gooey" and "Hazey." This led to the release of their first studio album, "Zaba," on June 6, 2014. The album contained the previously released singles from 2014, as well as "Cocoa Hooves" from "Leaflings" and "Black Mambo" from their second EP. In 2015 they took "Zaba" on tour, and performed over 130 shows. On Oct. 6, 2015, they released another single titled "Lose Control," a collaboration with artist Joey Bada$$.
On May 16, 2016, Glass Animals released "Life Itself" as a single, which spent 26 weeks on Sirius XM's alt-18 chart. On July 25, 2016, they released another single, "Youth." Finally, they released "Season 2 Episode 3" on Aug. 22, 2016, just four days before they released their second studio album, "How to Be a Human Being." While on tour in 2018, Glass Animals' drummer, Joe Seaward, was hit by a bus and severely injured, resulting in the cancellation of the remaining dates.
Glass Animals is a psychedelic pop group to the core. At the surface level their music contains interesting lyrics, weird words and sentences that don't seem like they belong together, yet somehow work. Their early songs, such as "Exxus," "Cocoa Hooves" and "Flip," feature a darker tone and hefty amounts of ambient bass to achieve a mystical effect. Others, such as "Holiest" and "Hazey," feature plucky drums and a distorted, bell-like keyboard, giving a similar effect.
Since "Lose Control," Glass Animals has moved to emphasize the pop portion of psychedelic pop, while keeping their signature strange lyrics. The guitar and bass parts in "The Other Side of Paradise" and "Poplar Street" feature much less distortion on the notes. Other songs, such as "Pork Soda," "Youth" and "Agnes," are much lighter in tone and rhythm. There are still outliers though. "Take a Slice" starts with a very quiet introduction before falling into a song much more reminiscent of "Zaba" with heavy distortion. Additionally "[Premade Sandwiches]" is a seemingly out-of-place spoken-word poem that features a sped up and monotone Dave Bayley commenting on society.
If you ask me, I'd say their entire discography is worth a listen. My personal favorite songs right now are " The Other Side of Paradise," "Flip" and "Agnes." For darker toned songs, I'd recommend "Antlers," "Exxus" and "Toes." For something that's part of their earlier psychedelic work, but lighter in tone, listen to, "Black Mambo," "Holiest" and "Hazey." If you'd like to listen to more pop-like songs, check out "Life Itself," "Youth" and "Season 2 Episode 3."