Badger Brothers Artist Spotlight: Mike Shinoda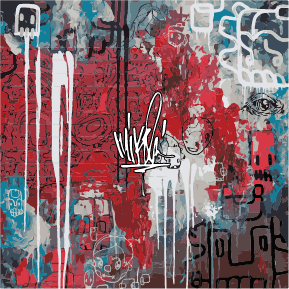 Many may know Mike Shinoda, an American singer/songwriter/rapper/producer, from his career with Linkin Park. This week's spotlight, however, will focus on his solo career after the events of 2017.
In 2018, Shinoda released an EP and album, both named "Post Traumatic." The EP had three songs on it, "Place to Start," "Over Again" and "Watching as I Fall." The album had these songs, as well as 13 other songs. He later released a deluxe edition with two more songs, "Prove You Wrong" and "What The Words Meant."
"Post Traumatic" is a hip-hop album about how Mike felt after the 2017 death of Chester Bennington, the singer who was also his foil in Linkin Park. The album's opener is, in my opinion, almost perfect. "Place to Start," meanwhile, is a slower song: the bass and quiet piano complement each other, with a somber-sounding Shinoda singing at what sounds like his laptop. It finishes with a collection of voicemails of various friends giving condolences. The lyrics themselves express many doubts of the future that allows the song to capture the unsure feeling that Shinoda, and many Linkin Park fans, had after Bennington's death.
Next up is "Over Again," which features a much heavier beat than "Place to Start," and an angrier sound. The lyrics portray confusion and grief, that you never really say goodbye to those you lose.
After "Over Again" is "Watching as I Fall," a song featuring heavy bass kicks, and a very synthetic, electronic melody. In it he talks on his downward spiral after, and how it's helped him rise as an artist. "Nothing Makes Sense Anymore," which follows, is a mix of lots of synth, a little piano, and none of the percussion normally found in hip-hop. Shinoda talks about the confusion of loss, and how even now he still feels it.
"About You" is the first of a few collaboration pieces on the album. Mike works with blackbear on the song. It has a feel much more in line with "Watching as I Fall," with the bass kicks, synthesizer, and ticking hi-hats.
Other collaborative pieces include "Make It Up As I Go," featuring artist K.Flay. It starts with a plucky guitar, before being replaced by bass, claps, and a much less plucky guitar. The lyrics show Mike reeling, trying to find his footing after everything, with K.Flay covering the chorus with an almost bleak charm. The next song, "Lift Off," features artists Chino Moreno and Machinegun Kelly. It starts with piano, before being joined by lighter kicks, and chime-like percussion. The lyrics are a power anthem, with Shinoda saying he never left and doesn't plan on it, Chino lending airy vocals to the chorus, and MGK hammering home the second verse.
"Brooding-Instrumental," meanwhile, serves almost as a vent piece. It starts with piano and augmented record scratches, before being joined by guitar; then moving into vibrating wubs, and a heavy, dark synth; finally moving out to a much lighter synth. Though there aren't lyrics, the music video depicts Shinoda in various locations, staring wistfully into the distance while lost in thought.
One of the lighter songs is "Promises I Can't Keep". The lyrics express how Shinoda realizes he can't be what he was, that he needs to change in order to move on. "Crossing A Line" serves as the perfect follow up. It, like the previous song, is much lighter in tone, but trades the heavy bass for lighter kicks and clapping. Shinoda apologizes to the fans, but says he needs to change to move on.
"I.O.U." is the hip-hoppiest piece on the album. It starts with high synth, before being joined by heavy, repeated kicks and stabbing hi-hats. Mike Shinoda slams both critics and leeches in the community, the fake friends that only want a piece of the fame. "Running From My Shadow," the final collaboration piece, features grandson and once follows a style closer to "Hold It Together" with the darker melody and heavier bass. He talks about feeling followed by his past, not being able to outrun it; that it's never really gone, grandson's hook serving as Mike embraces it.
The deluxe edition offers two more songs, "Prove You Wrong" and "What The Words Meant." The first is lighter in tone, opening with guitar before shifting into piano and light kicks, and everything joining together at the chorus. "What The Words Mean," in contrast, has a darker tone, quieter kicks, and a piano like synth joining every once in a while. It shows Shinoda coming to understand how Bennington felt, after thinking he always knew but never did.
Rather than separate by style, I'll be listing my top five songs from the album. Number five is "Can't Hear You Now," a feel-good song that makes me realize I can rise above those that try to drag me down. Number four is "World's on Fire," which reminds me that there's always someone there for me, to keep me from falling too far away.
Number three is "Crossing A Line." I love the way that the melody and bass slot well together, and it just makes me feel hopeful for the future. Number two is "Make It Up As I Go:" Shinoda and K.Flay work together on the song, and it makes me realize that even if no one is there for me, I'll be there for myself; I am the rock that I stand upon.
My number one song off of "Post Traumatic" would have to be "Lift Off." Chino's vocals fit perfectly, giving the chorus an airy, floating vibe. Shinoda's first verse is powerful, showing he's at the top of his game and only going to rise. Machine Gun Kelly's verse is much more grounded, he's at the bottom but that isn't going to stop him. The song makes me feel powerful, and lifts my spirits every time I listen to it.
If you'd like to give feedback or suggestions, feel free to email me at [email protected] Tune in next week where I'll be covering the Canadian pop group Dizzy.