Badger Brother's Artist of the week: Dizzy
Liam's top five favorite songs from the Canadian Indie pop group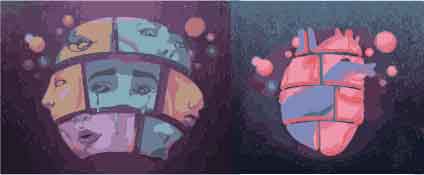 Dizzy, a Canadian indie pop group, is based in Oshawa, Ontario. It consists of brothers Alex, Mackenzie and Charlie Spencer and their childhood friend, Katie Munshaw. The group formed in 2015.
They started producing music in 2017, when they released two singles: "Swim" and "Stars and Moons." 
In 2018, they released two more singles, "Pretty Thing" and "Backstroke." This led to the release of their first album, "Baby Teeth," which had all of the previous singles and seven more songs. They later released an extended play (EP) titled "Communion + Rak Sessions," which offered live – session – like reworks of some of the popular songs from "Baby Teeth," as well as one new song, "Here We Go."
2019 saw the release of two new singles, "Heavy" and "Twist." Shortly afterward, they released another EP, "Heavy/Twist." It had "Heavy" and "Twist," as well as a piano variant of the latter, and one remix for each song.
On top of all of the aforementioned releases, Dizzy has done a variety of collaborative pieces throughout 2018 and 2019.
Sticking with the style of last week, I'll be going a bit deeper on my top five songs by the artist.
The first song that I like a lot is "Pirouette." It's a really light piece that strays away from the more semi-electronically augmented style. It's folk-ish in nature with acoustic guitars and quiet piano. The lyrics seem to be about saying goodbye to a friend, promising that one day you'll catch up with them again. I think it is a really relaxing song to listen to and would serve as the perfect ending to the album. 
Next up is "Joshua." The song nails the dreamy vibe that permeates from Dizzy's music. The opening line, "Joshua's a Gemini," oozes high school relationship vibes and sets the tone really well for the piece. It's a somber piece about recovering from a sudden breakup. Despite not being through a sudden breakup myself, Dizzy performs the song in a way that makes it feel relatable.
Third is "Swim." This piece is much more upbeat than the previous two mentioned. It tackles the topic of fighting with your friends, knowing you'll make up later. It does so without being angry or angsty. I like this song because it's just really pleasing to the ears.
"Stars and Moons," however, is a very different story from "Swim." It has a much darker tone, yet still manages to keep the airy vibes of Dizzy. It deals with a person trying their best to console a friend after a breakup. I relate to this song a lot because I like to take the supportive role, but I can also vibe with the song.
 By far my favorite song by Dizzy is "Backstroke." It's another darker-toned song, but even more downbeat than "Stars and Moons." The song talks about unrequited attraction and acting as an emotional crutch for someone who won't feel the same way, and inevitably drifts apart. This is the first song I heard from them, and I just found it really catchy. Without going into too much detail, I relate to this song a lot. It's a really chill song, with a good vibe as long as you don't think too hard.
If you have any feedback or suggestions, feel free to email me at schro[email protected]. Next week I'm covering Of Monsters And Men.