Local Comedian performs at Markee Student Center
Arvin Mitchell dominates the stage with challenging jokes that blow minds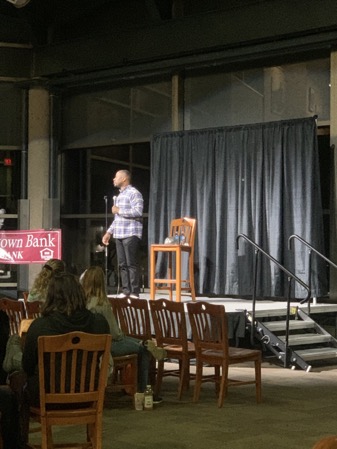 Last Saturday night, comedian Arvin Mitchell was front and center on the Pioneer Student Center stage. The crowd of about 80 students looked  like they were ready to have a good time. 
Marvin started the show by saying he really wasn't that funny and he didn't know why the crowd was already laughing. He also started to make fun of people's laughs and how loud they were. 
Marvin then got into his more vulgar jokes, talking about sex and asking the crowd why they were still single. In fact, there was a steady stream of laughter, even though most of the jokes were directed at specific people in the crowd. 
 "I think the performance was great, and the students seemed to really enjoy it," Delanie Strohecker, an event producer from Campus Programming and Relations said. "We chose Arvin Mitchell because we saw him perform at the [National Association for Campus Activities] Conference, and we really enjoyed him." 
According to Strohecker, the next comedian will be Eric O' Shea on Saturday, Dec. 7.