The culture surrounding 2019 Novel Coronavirus
Shocking and sensationalized headlines lead to myths and misconceptions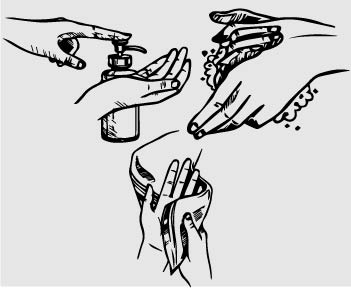 Over the course of the last few weeks, the Center for Disease Control and Prevention (CDC) has been closely monitoring what their website identifies as "an outbreak of respiratory illness caused by a novel (new) coronavirus named 2019-nCoV that was first detected in Wuhan City, Hubei Province, China early this year." 2019-nCoV has gained worldwide attention as new updates find their way into the public eye on a daily basis.
On January 31, "The New York Times" posted an article titled "Masks Are On. Games Are Cancelled. Fear of the Coronavirus Comes to U.S. Colleges." The article noted that the alarm over 2019-nCoV came to a head when Delta Air Lines, United Airlines and American Airlines announced the suspension of their flights to mainland China. The previous day, the CDC website had reported the first instance of person-to-person infection in the United States.
At the University of Wisconsin-Platteville, two students, both natives of Wuhan, were moved from their dorms with American students to a separate room together at the beginning of the semester. Four additional students and a number of faculty who had recently visited Wuhan were instructed to self-monitor their health for the next few weeks.
Dean of the College of Liberal Arts Melissa Gormley, told "The New York Times" that the returning students had not shown any symptoms, and that she hoped to move the two students from Wuhan back into their dorms with other students soon.
Despite the small number of students directly affected by the virus, both of whom have subsequently passed the known incubation period and shown no signs of infection, the presence of these international students on campus combined with national reporting on the virus in China have led to concerns of an "outbreak."
UW-Platteville junior chemistry major Stephanie Noonan shared that she first heard about the virus on social media and was quickly contacted by a family member who sent her an article about the university being under scrutiny for having students and faculty who recently travelled to Wuhan.
"I saw a lot of articles with titles calling the disease a 'pandemic' or how we should protect ourselves. I did not read these articles, because they were using click-bait and were from unreliable sources," Noonan said.
According to Administrative Director of UW-Platteville Student Health Services Rachel Herman, Noonan was right to avoid sensationalist reports. Herman urged the public to stop reading sensationalized online stories. Rather, she recommended the CDC website (cdc.gov) or the Wisconsin Department of Health Services (WDHS) website (dhs.wisconsin.gov) for accurate updates.
Herman stressed that, while 2019-nCoV should be taken seriously, panic is definitely not the answer. She shared that it is influenza season on campus. Her advice is to get your flu shot if you haven't yet and to wash your hands. Since October 1, 2019, the influenza virus in the United States has killed at least 12,000 Americans, according to the CDC: 2019-nCoV has not resulted in any fatalities in the United States and, as of February 11, recently eclipsed 1100 deaths worldwide.
Noonan echoed Herman's advice, saying, "Inciting panic always causes more harm than good."
Tracking any new information about 2019-nCoV is key to understanding it. Herman described the flow of any new data on the virus as traveling from the CDC to the WDHS and all the way down to county services. Information also flows back up this line of communication. So, if the UW-Platteville Health Services Department discovers new information, they can get in touch all the way back up to the CDC.
Herman assured students that there was never a threat to this campus as far as the emergency operations team that the university has on stand-by for this situation is aware of. Nonetheless, the team has taken the time to proactively compile FAQs that can be found on the UW-Platteville website, most of which are based on questions that they received before school started back up this semester.
"One of the lessons that we learned through this and through every emergency is communication is key," UW-Platteville Public Information Officer Paul Erickson told NBC Channel 15 News.
Productive communication directly from campus officials, the emergency operations team and the CDC can be contrasted with some more distasteful news coverage.
Noonan expressed dissatisfaction with the media's less productive portrayal of the virus.
"Instead of appropriately educating the public with helpful updates, they sensationalized it in order to garner more clicks and reads. I believe this also incited an increase in racism," Noonan said.
On the topic of race, "The New York Times" article, "Masks Are On. Games Are Cancelled. Fear of the Coronavirus Comes to U.S. Colleges," stated that "[UW-Platteville students from Wuhan] have been free to 'rove about campus'…"
Word choice is always important, but especially so when reporting on something as serious as disease. Negative connotations such as this can foster a correspondingly negative reaction from the public. To claim that certain students are free to "rove about" can be construed to imply that those students are dangerous and need to be contained. This implies fear about any students perceived to be Asian "roving around" among other students, as if they are a threat.
"Masks Are On. Games Are Cancelled. Fear of the Coronavirus Comes to U.S. Colleges" does acknowledge a rise in xenophobia. Despite some poorly chosen language, the article also adds that students have described a rising anti-Chinese sentiment on their campuses that has extended to anyone of Asian descent. However, similar negative rhetoric to that in the article has appeared in social media and in popular culture.
In her article for Salon, "'Wuhan Coronavirus' and the racist art of naming a virus," reporter Marie Myung-Ok Lee shares that "In New York City, there have been several reports of assaults on Asian people, an assailant punching and kicking a woman, calling her a 'diseased b*tch.'"
She also condemns "The New York Times" for using the title "Wuhan Coronavirus" when referring to the virus, and points out that viruses are far more likely to acquire names related to regions when they originate anywhere other than the U.S. and other Western countries.
Indeed, the hysteria stoked by headlines such as "Coronavirus Updates: Virus is Said to Spread Thorough Apartment Building's Pipes," also from The New York Times, have provided the kindling for some less-than-subtle aggression towards anyone who even remotely appears to be of Asian descent.
Noonan feels that examples such as Lee's strengthen her criticism of media.
"Instead of educating the public on proper procedure to keep themselves safe, which are normal healthy habits like cleaning your hands and covering a cough, [the media] chose to use this irrationally," Noonan said.
UW-Platteville continues to provide more productive information via website and email updates to its faculty, staff and students.
If you still have concerns, Student Health Services is open from 8am to 4pm on Monday, Tuesday, Wednesday and Friday and from 9am to 4pm on Thursdays.