Day in the Life of a Farm Nanny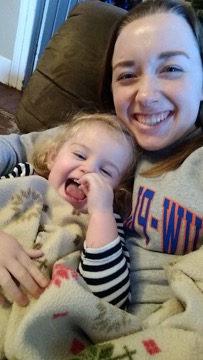 Hi everyone, I'm Anna Evenson and I am a sophomore dairy science Major from Cambridge, WI. As a University of Wisconsin – Platteville student, I am adapting to doing school from home through "distance learning" and adjusting to being home full-time. I am currently a nanny for a local family, and I'd like to give you a glimpse into a typical day for me.
So, a little bit of background about my work. The family that I nanny for dairy farms, and I also milk cows for them. The parents are Chris and Angel Hebbe, and they have a two-year-old daughter named Anneliese. I have worked for the Hebbes since 2017 and have known their daughter since she was born in 2018. I have babysat Anneliese from time to time since she was born, but now that I am home full time her parents and I have worked out a plan for her to be with me five days a week, Monday through Friday, and then I milk cows for them all weekend. So, without further ado, here is a look into a typical day for me as a nanny.
I typically pick up Anneliese at 8:30 every morning. I start out by getting her dressed and brushing and putting up her hair. Then I load up her diaper bag with toys, snacks and extra clothes for the day. We are usually back to my house by 9. Like everyone else in college, I too am adapting to this "new distance learning". I have set up a home office/playroom for Anneliese in my house. When we get to my house, I give Anneliese her breakfast and set up to do some class work. Anneliese has joined me for several Zoom meetings and loves waving at my professors and classmates. She is super excited when the people on the screen wave and say hi back. Usually I'm done with my schoolwork by noon and it's time to get ready for lunch.
Anneliese can be a picky eater, but one thing that is always a hit is macaroni and cheese. After she finishes her lunch, it's time for a nap. Usually she goes down easily, but sometimes she can be fussy like any two-year-old. While she naps, I try and get some more work done for school and tidy up around my part of the house. Her naps generally last around two hours or less. When she wakes up, I go and pick her up and we watch a little tv just so she can have some more time to relax and wake up a bit.
I live on a farm and we have lots of different animals around, so I try to spend as much time outside with her as I can if it's nice. With the great weather we've been having, we've been outside a lot lately. Anneliese gets very excited when it's time to put her boots on and go play with the animals. We have three pigs, three goats, two rabbits, six chickens, and a yard full of steers. Anneliese loves to feed the pigs marshmallows, and she is not afraid to get in the pen and play tag with them. I think her favorite pig is our littlest pig, Wilbur, who was a runt, so he is extra small compared to the other pigs. Anneliese loves to go up to him and feed him treats out of her hand and let him sniff her. It's fun to just sit and watch her play with the different animals and see how gentle she is about petting them. One of our rabbits that Anneliese loves to play with is Sven, our one-year old Silver Fox. Anneliese will stand at his cage door and just say "aww" until I open the door and take Sven out so she can pet him. Occasionally, she gets a bit too excited and pulls on his long ears, but Sven is very calm and never fusses. Anneliese loves being with the animals and always says bye to them when it's time to leave.
My afternoons with Anneliese usually consist of playing outside either with the animals or in the sandbox next to my house, coloring, watching movies (usually Disney princess ones), indoor playtime and working on teaching her new words. Anneliese is very smart and is a very giggly, happy little girl, so getting to watch her every day is a fun job, even with the occasional little meltdowns.
I typically bring Anneliese back to her parents around 6:30 every night. Before we go in the house, Anneliese helps me take care of the chickens. I give her a scoop of feed and she will go in and feed one of the pens of our smaller birds while I take care of the bigger birds. After chores are done, we go inside. I give her a bath, put her into her pjs and get her settled back in with her mom who she is always very excited to see at the end of the day. I usually leave her house around 7:30 so that I can go back to my house to take care of my own animals for the night, clean up her toys and get ready for the next day. Anneliese likes to give me a hug and we do our "secret handshake," then say goodbye.
Nannying is not what I thought I would be doing this time of the year, but it has been really rewarding for me and has been a great way for me to keep positive and happy during this challenging time. Anneliese is such a happy little kid and always knows how to make people smile. While I wish I could be in Platteville with my friends working on my degree, I have found a way to make the best of the situation, and I know that all the students and staff at UW-Platteville are doing the same!