New Technologies at Pioneer Farm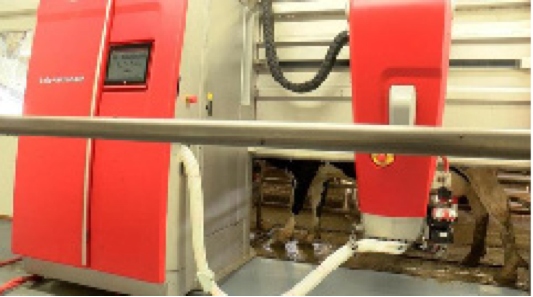 The University of Wisconsin-Platteville Pioneer Farm is growing and adapting to changing technologies in today's dairy industry. 
On Pioneer Farm, currently about half of the milking cow herd has been accommodated to robots for milking use. The other half of the herd is still being milked in the double five herringbone parlor on Pioneer Farm. 
A herringbone parlor is one of the most common types of parlors in the U.S used to milk cows. The cow stands on an raised platform with the back half of the cow facing outward, allowing for the milking equipment to be attached. 
According to Dr. Tera Montgomery during a tour of the robotic milking system on Pioneer Farm, the time for a milking shift has significantly decreased since the installation of the robotic milkers.
According to the Pioneer Farm, they had two new Lely Astronaut A5 robotic milkers installed over the summer for use in the dairy operation. According to the Lely Midwest regional systems manager, there are more than 100 robotic milkers being used in Wisconsin alone. 
 "A Lely robotic milking system can milk 60 cows per robot or more, with an average of 2.6 milkings per cow per day," according to the company.
Right now, the Pioneer Farm is continuing to milk the herd in two separate ways to allow for research opportunities and hands-on experience for students. When the Pioneer Dairy Farm was built, they had two robots and a parlor where the cattle were milked. 
The Dairy Innovation Hub has been a major component in the installation of the new robotics on Pioneer Farm. The Dairy Innovation Hub is a grant from the state of Wisconsin which funds $7.8 million dollars per year to improve research and development in the dairy industry at UW-Madison, UW-Platteville and UW-River Falls to keep Wisconsin at the lead of the dairy industry. 
The new milking robots on Pioneer Farm will allow for new research and education in agriculture technology for staff, students, professionals and the public. Along with the new research and teaching side, the milking robots will also bring a welcome benefit for staff, students, and the cows. The robotic milkers can provide farmers with different kinds of information such as milk quality, temperature, speed and many other more in-depth factors. 
Robotic milking systems can positively benefit the dairy industry. Studies have shown that robotic milking is more water and energy efficient. Robotic milkers also increase milk production, decrease labor, and improve cow welfare as cows are milked in the same space they live in, allowing the cows to come and go as they please.