Know Thyself Podcast Review
An experience to focus on self-reflection and growth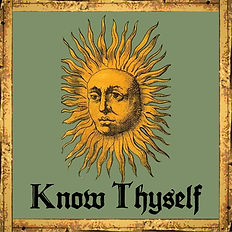 "Know Thyself" is a podcast led by Daniel and Eduardo, two hosts who talk about transcendental ideas in an easily listenable style. "Know Thyself" episodes begin with Eduardo explaining that "Know Thyself is dedicated to the most rewarding task an individual can ever embark on: the journey to find one's self." Then Eduardo usually introduces a topic and Daniel leads the listeners through complex details or down rabbit holes of it.
Eduardo and Daniel's purpose for the podcast is to help listeners achieve self-knowledge "through the investigation of Natural Law, Alechemy, The Occult, Hermeticism and all other Light Mystery School Traditions," according to the podcast's website, knowthyselfpodcast.org. The podcast describes a lot of new vocabulary for beginning occultists."Know Thyself" episodes are typically 40 minutes in length and, in that time, only cover a single idea. The series starts out explaining planetary relationships, as well the characteristics of each planet and how those characteristics spill over scientifically into the physical world. The planetary information ties in heavily with astrology, which Eduardo and Daniel strongly advocate is tied to astronomy. This intertwined relationship between astrology and astronomy can be further exhausted within their in-depth content.
The podcast also breaks up the main concepts with fun segues to movie reviews of "The Matrix" and the "Star Wars" trilogy as well as nursery rhymes, including "Row, Row, Row Your Boat." The podcast always uses these segues as opportunities to reintroduce the concepts from recent episodes.
The podcast establishes themes of duality often by using the terms exoteric and esoteric, which refer to general knowledge and secret knowledge, respectively. Most of the episodes currently streaming are about Tarot and the fool's journey. The fool's journey ties in strongly with discovering how we all have a hero's journey and that we also all play the side-characters in each other's
journeys. The entire podcast series is an experience of self-reflection and growth.
Rated: 9/10