Facebook, Twitter, Instagram, Snapchat, Google Plus and Tumblr are all major social media platforms that are utilized today by billions of people around the world. From individual people to large corporations, social media runs as part of daily life in the current world, including that of the students at the University of Wisconsin-Platteville.
Sarah P. Miller is the Director of Social Community in connection with the UW-Platteville Information and Communications department. What that means is she is the full-time manager of the social media websites run by UW-Platteville. Miller started UW-Platteville's social media community when she was working in Public Relations and was approached to start the movement on Facebook and Twitter.
With over 2,000 followers on Twitter (@uwplatteville) and nearly 8,000 likes on Facebook (University of Wisconsin-Platteville), UW-Platteville had to create a position for someone to take on managing the large response from social media users to the school's websites.
With one part-time student worker, Jamie Procarione, Miller is on her computer or smart phone, tweeting or messaging the students, faculty, staff, alumni and future students about multiple topics that come up on-line.
Procarione, sophomore elementary education major, works about 10 hours a week with Miller. Her main duties include managing the UW-Platteville run Facebook groups for each graduating class. Before Procarione became a member of the UW-Platteville community, she started the Class of 2015 group on Facebook.
"I was nervous about coming to college, and I wanted to get to know some people before I came," Procarione said. "There are now over 650 members in that group, and I was offered the job the next summer."
After hiring her, Miller started creating groups for future incoming freshman groups that Procarione manages. For the past two years, the links to the Facebook groups have been included on the acceptance letters, so people in those groups can start interacting almost a year before they even are on campus.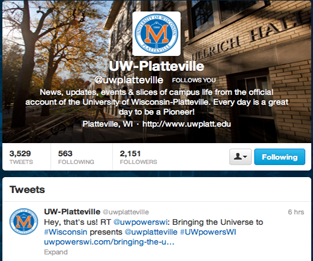 "The incoming freshmen for next year are already interacting," Miller said. "Once they figure out what dorm room they are in and who their roommates are, everything explodes. There is an intense interaction with comments pouring in night and day for weeks because they start to get really excited about it."
UW-Platteville primarily use the social media sites to talk to a lot of students at once, increase awareness for prospective students and stay connected to alumni and community members.
Procarione, along with managing the classes of 2015- 2018, participated in the "UW Powers Me" (@UWPowersMe) Twitter project sponsored by the UW-System. Students, faculty and alumni from each of the 13 UW schools will control the account and document their daily lives, and Procarione was the first.
"There were about 90 followers when I started; now there are about 160," Procarione said. "I tweet about my sorority, hall council, work and other things I do during the day."
This project was another way for UW-Platteville to communicate with people who want to learn more about student life and goings on in Platteville.
Miller is always looking for new things to do by utilizing data and analytics to better determine what followers of the social media platforms want. Some posts are scheduled with Hootsuite, a social media manager, but many are commissioned by Miller or Procarione, especially when the student body needs emergency or pertinent information.
"The most fun part, especially in higher education, is that it is like the Wild West," Miller said. "Nobody really knows exactly what the best way to do things is. There is a lot of creativity and new ideas. Social media is not set in stone on how to use it in higher education."
A complete list of UW-Platteville's social media platforms are located at uwplatt.edu/social.